Join Joel Salatin, Dave Jacke, Eric Toensmeier and More for a Carbon Farming Course
Carbon Farming puts carbon where it belongs – in the soil.
Carbon Farming combines cutting-edge agricultural practices with the tools of ecological design to build healthy soil and profitable farms. The Carbon Farming Course is hosted by the beautiful ThreeFold Educational Center in Chestnut Ridge, NY, home of the Pfeiffer Center for Biodynamic Agriculture. Evening lectures will be held at the Stone Barns Center for Food and Agriculture in Pocantico Hills, NY.
Top farmers and researchers from around the world are gathering at this unique event to train land-owners, farmers, policy-makers, investors, and  in the best practices of carbon farming. Each Workshop in the 2012 Carbon Farming Course focuses on an essential component of profitable regenerative agriculture:
Holistic Management: Decision-making for profit and purpose.
Keyline Farming: Water planning and rapid soil development.
Perennial Agriculture: Mimic ecosystems for resilience and risk-management.
Tree Crops & Agroforestry: Perennial systems to multiply your yields.
Living Soils: Activate soil biology for fertility and input-reduction.
Local Food Systems: The Polyface Farm strategy for economic abundance.
Presenters will include Joel Salatin of Polyface Farms, Dave Jacke of Dynamics Ecological Design, Eric Toensmeier of Perennial Solutions, and more.
Carbon Farming Workshops in Regenerative Agriculture
January 17th – February 5th, 2012
Pfeiffer Center,
260 Hungry Hollow Road
Chestnut Ridge, New York 10977
www.carbonfarmingcourse.com
Sponsored by The Northeast Organic Farming Associations of NY and NJ (NOFA-NY, NOFA-NJ), The New England Farmers Union, Terra Genesis International, Food Forest Farm, A Growing Culture, and Gaia University International.$1795 all workshops, $495 individual workshops, $110 individual workshops
Register today at http://www.regonline.com/Register/Checkin.aspx?EventID=1005444
For more information [email protected]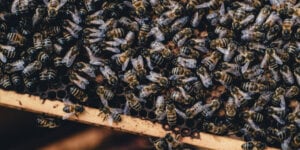 Spring is here and I don't know about you, but I can't wait to get started on all of the projects I mapped out during the cold winter months – including trying my hand at incorporating bees into my homesteading adventure! As a new-bee (get it?!), I need help to get started so I did…
Read More