Finding The Wildness Of Chiles In Sonora

The following is excerpted from the forthcoming book Chasing Chiles: Hot Spots Along the Pepper Trail, by Kurt Michael Friese, Kraig Kraft, and Gary Paul Nabhan. It appeared originally online at Edible Phoenix. Chasing Chiles will be available in early March.
When we crossed the US–Mexico border into the estado de Sonora, we could feel something different in the landscape. It was especially visible along the roadsides, a feeling that was palpable in the dusty air. Less than half an hour south of Nogales, Arizona, we began to see dozens of street vendors on the edge of the highway, hawking their wares. There were fruit stands, ceviche and fish tacos in seafood carts, tin-roofed barbacoa huts, and all sorts of garish concrete and soapstone lawn ornaments clumped together. Amid all the runof-the-mill street food and tourist kitsch, we sensed that we might just discover something truly Sonoran.
Dozens of long strings of dried crimson peppers called chiles de sarta hung from the beams of the roadside stands, ready for making moles and enchilada sauces. Hidden among them were "recycled" containers used to harbor smaller but more potent peppers: old Coronita beer bottles and the familiar curvy Coca-Cola silhouette filled with homemade pickled wild green chiltepines.  These were what we sought—little incendiary wild chiles, stuffed into old bottles like a chile Molotov cocktail and sold on the street.
They signaled to us that we had come into what the likes of Graham Greene and Carlos Fuentes have described as a truly different country—the Mexican borderlands. It is as distinct from the rest of Mexico as it is from the United States, for the borderlands have their own particular food, folklore and musical traditions. This is a country where a beef frank wrapped in bacon can become a "Sonoran hot dog"—with jalapeños, refried beans, crema and fiery-hot salsa soaked into a soft-textured roll—and where ballads are sung about rebels and renegades, both those of the past like Pancho Villa and those of the present like the narcotraficantes of the Sinaloan drug cartel. It is place where preservative-laden ketchup is frowned upon, and where freshly mashed salsas are nearly as common as water.
We were after the first and most curious of all the North American chile peppers, the chiltepin—the wild chile pepper of the arid subtropical sierras. It remains one of the true cultural icons of the desert borderlands, a quintessential place-based food, for it is still hand-harvested from the wild. Chiltepines are associated with human behaviors that are considered both sacred and profane. On the one hand, they are deified in an ancient Cora Indian creation story, and relied upon in Yaqui and Opata healing and purification rituals. On the other hand, they remain the favored spice in Sonoran cantinas and cathouses.
Continue reading this excerpt at Edible Phoenix. Photo above left courtesy of Edible Phoenix.
Learn more about Chasing Chiles in our bookstore now.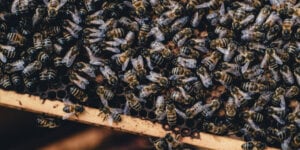 Spring is here and I don't know about you, but I can't wait to get started on all of the projects I mapped out during the cold winter months – including trying my hand at incorporating bees into my homesteading adventure! As a new-bee (get it?!), I need help to get started so I did…
Read More