Donella Meadows and Cobb Hill Cohousing
From the Burlington Free Press:
About a decade after first breaking ground, Cobb Hill Cohousing in southern Vermont is taking stock of its progress toward building a sustainable community. Residents of the 22 green-built households are motivated by the words of the development's founder, the late pioneering environmental scientist Donella Meadows: "We need people willing to work seriously at human community and at loving this land, caring for it, and making it productive."
HARTLAND FOUR CORNERS — On a recent cool, damp afternoon at Cobb Hill Cohousing in southern Vermont, there were plenty of warm spots in which to seek refuge from alternating drizzle and steady rain.
There was the toasty room housing the wood-fired gasification boiler that heats Cobb Hill's 22 clustered, green-built homes and provides back-up water heating power to the solar panels on each roof. (Even though it had not yet been turned on for the season, it radiated heat from a recent maintenance run.)
Then there was the animal-generated warmth in the long red barn, where calves from the on-site farm's registered Jersey milking herd were cuddled down in straw near the first few of Cobb Hill's Icelandic sheep to move into their winter quarters.
Another option was the steamy cheesemaking room, where two of the business partners (also Cobb Hill residents) of one of the community's many independent enterprises packed molds full of fresh curds made from the Jersey milk for their award-winning farmstead cheese.
And, finally, in the cozy common house dining room — where many of the 60 residents, ages 3 to 76, gather twice weekly for communal meals — a visitor was offered a cup of hot herbal tea. The tea accompanied conversation about the ongoing mission of Cobb Hill, originally envisioned by its late founder, pioneering environmental scientist Donella (Dana) Meadows, as "a loving human community that does its utmost to practice the skills of sustainable living."
A little more than a decade since Cobb Hill's first buildings were completed, the resident-members of the community are proud of what they have built together through joint investments of energy, effort and capital. But they also are cognizant that future decades will call for renewed efforts and fresh approaches toward their goal of living as lightly as possible on the land.
"It isn't the same world as it was 10 years ago," said Judith Bush, 76, a social worker and former cheesemaker at Cobb Hill who has been involved since the early planning stages. "Communities need to figure out what makes them resilient for whatever comes along."
A Clear Vision of Sustainability
In the common house, on the mantle above the community's only fireplace, sits a photograph of Meadows. Among many accomplishments, Cobb Hill's founder was a Harvard- and MIT-trained scientist, longtime Dartmouth College professor, organic farmer, MacArthur Foundation fellow and Pulitzer-Prize-nominated columnist.
Perhaps most famously, she was lead author of the influential and controversial 1972 book "The Limits to Growth," which was based on a computer model that suggested global resources would run out in the face of continued population growth and unchecked consumption patterns.
Meadows died unexpectedly in 2001 at age 59 after a brief illness — about six months after the groundbreaking for Cobb Hill.
"Dana was one of the most important environmentalists of our time," environmental author, activist and Ripton resident Bill McKibben wrote in a recent email. "She did more than anyone else to explain the essential fact of life on earth: the planet is finite, and can't support endless growth. She did this with computer models, but also with beautifully written essays, with her farm, and with the vision that became Cobb Hill."
Added Bush, "She was the seminal thinker. She was the glue that brought people together to realize her vision of sustainable farming within a sustainable residential community."
Cobb Hill, Bush said, is a living example of the mission of The Sustainability Institute, a nonprofit that Meadows founded in 1996 to apply systems thinking, system dynamics modeling and organizational learning to economic, environmental and social challenges. It was characteristic of Meadows, Bush explained, that while others founded think tanks, she created what she called, "a 'think-do' tank."
Read the rest of the article over at the Burlington Free Press's website.
And check out a forthcoming book by one of Meadows' coauthors on The Limits to Growth, Jorgen Randers. Next summer we will be publishing his book 2052: A Global Forecast for the Next Forty Years.
(Photo: GLENN RUSSELL, Free Press)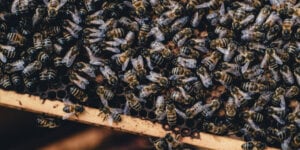 Spring is here and I don't know about you, but I can't wait to get started on all of the projects I mapped out during the cold winter months – including trying my hand at incorporating bees into my homesteading adventure! As a new-bee (get it?!), I need help to get started so I did…
Read More