Concerned Philosophers for Peace Praise Diane Wilson's Activism
Diane Wilson isn't just an inspiring environmental activist, ready to face jail in order to call attention to the wrongs committed against mother nature. She isn't just a fantastically vivid writer, sharing her antics with the world in books like her latest, Diary of an Eco-Outlaw. And she isn't just a feisty woman whose ideals are as strong as her resolve–she's also a mom!
President of Concerned Philosophers for Peace Danielle Poe will present the annual presidential address on Diane Wilson's environmental activism during the closing plenary session for the CPP annual conference at Austin Community College.
In a paper tentatively titled, "Mothering against the Norms: Diane Wilson and Environmental Activism," Prof. Poe will explore intersecting meanings of justice and mothering in the writings of the highly respected Texas activist.  Here's how Poe describes the upcoming presidential address:
"When my daughter was five years old, I bought her a book about Diane Wilson, whose nonviolent civil disobedience landed her in jail as she confronted injustice. Wilson's story inspires me, and I hoped it would inspire my daughter as well. Wilson inadvertently stumbles on information about the pollution of the bay where she and her family
have shrimped for four generations, and she tirelessly confronts those who are causing the pollution in order to save her community and its bay. I want this kind of passion and sense of justice for my children; I want them to speak out against injustice even when the odds are overwhelmingly against them.

"I will analyze the ways in which Wilson's experience as a mother inspires her to choose nonviolent, civil disobedience that will result in incarceration. As part of this choice, Wilson confronts norms about what it means to be a mother in U.S. society. Her actions challenge social pressure to raise children who conform to values of capitalism and militarism rather than to justice. While it may seem to be the case that the time that Wilson serves undermines her ability to be a mother by going to jail, I will argue that she fulfills her obligations to her children and provides a creative example to other mothers on how we can mother and resist oppression such that we work to give our children a better society, a capacity to discern justice from injustice, and a capacity for imagining and creating a better society."
Poe is Associate Professor of Philosophy at the University of Dayton. She will deliver the CPP presidential address at 3pm, Saturday, Nov. 5, at the auditorium of the Riverside Campus of Austin Community College.  The event is free and open to the public.
For more information, please visit their website at: http://peacephilosophy.org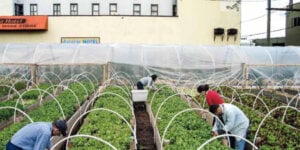 What if farms and food production were integrated into every aspect of urban living—from special assessments to create new farms and food businesses to teaching people how to grow fruits and vegetables so farmers can focus on staple crops. Urban farming is a story of recovery, of land and food, of people, and of the…
Read More