Booklist reviews Cooking Close to Home
Our new seasonal cookbook, Cooking Close to Home by Diane Imrie and Richard Jarmusz, received the following stellar review in the American Library Association's Booklist publication this month.
This is the perfect book to have as farmer's markets start reopening for the season and filling with delicious produce!
Following the course of changing seasons and using locally raised meats and produce have become touchstones for contemporary cuisine. Imrie and Jarmusz emphasize vegetarian dishes, but carnivores have little to complain about since duck, chicken, pork, beef, salmon, and trout all star in multiple places. Seeds, nuts, and cheeses enliven salads and vegetable gratins, and plenty of imaginative and colorful relishes and salsas dress up even the plainest meals. They leap the border to create a classic Quebecois meat pie, tortière, using buffalo, venison, and beef for richer flavor than the customary all-beef version. Imrie and Jarmusz offer a few recipes for preserving the summer's bounty by pickling pepper, canning corn relish, and even bottling a maple syrup–based barbecue sauce. Full-color photographs make the recipes' results appear even more attractive. New England and Northeast libraries will find this title particularly useful. -Mark Knoblauch
(Reprinted with permission of Booklist, copyright 2011, American Library Association.)
Cooking Close to Home is available now. Get a sample recipe here!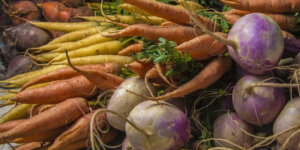 If you love to cook with fresh produce but happen to live in a climate where it's nearly impossible to access during the winter months, we feel ya! Here in the northeast, chilling winds and heaps of snow make it hard to leave the house, let alone grow fresh produce, but that doesn't mean we…
Read More