An Update on Flooding from Irene, and Ongoing Recovery in VT
Tropical Storm Irene slammed Vermont last weekend, causing more severe flooding than the state has seen in nearly a century. Many rural highways along mountain rivers were washed out, isolating some towns completely until ATVs, horses, or hikers could make it in. For a country well-versed in hurricane damage, the devastation in Vermont could be hard to read  for what it is–but nobody here saw it coming. A state that plows several feet of snow each winter doesn't ordinarily expect her summer vacation to be swamped by a tropical storm. But the climes, they are a-changin'…
Despite the mayhem, Vermont and Vermonters are strong and resilient! This past week has seen heroic efforts to salvage flooded houses, get medicine to isolated towns by horseback, and even save sheep by kayak. Roads are busily being rebuilt, water and power are being restored, and life looks to be returning to normal.
To keep up to date with flood response information, ways to help, and to find out which roads are open, here's a list of online resources. Enjoy, stay dry, and good luck!
On Facebook:
Vermont Flooding 2011: Statewide information is posted here by regular folks. You can often get replies to requests for information about specific road closures and progress within minutes, plus links to tons of other sites with more resources: https://www.facebook.com/pages/Vermont-Flooding-2011/212455332141871
VT Response Blog:  This blog is collecting statewide information for volunteers, requests for help, and other things, like a dog that was found recently in Proctor: http://vtresponse.wordpress.com/
From the Upper Valley area:
Bob Cavnar's blog: Bob is a Chelsea Green author and part-time Woodstock resident. This is a link to a story on NBC's Nightly News last week about the disaster. Finally some national coverage!: http://this-small-planet.com/
Julia Carlisle, another Woodstock resident, is keeping the world informed play-by-play on her blog:  http://woodstockearlyworm.wordpress.com/
On Twitter
Search for hashtags #VTResponse and #VTIrene for the latest updates, including those from Governor Peter Shumlin and federal emergency response organizations like FEMA.
In other news, there's a rumor floating around the office that we may be pulling together some kind of book on the VT floods to serve as a fundraiser for damaged libraries…more on that as it unfolds!
Photo: Leila LaRosa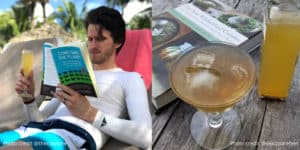 Wondering what to read this summer? Don't worry, we have you covered! Grab your towel and claim the best pool chair or relax at your homestead with one of these perfect summer reads. Whether its nature reads, to healing your gut, everything wild, or inspirational books you'll have your nose in a book all summer long…
Read More