Exploring The Ingredients For Transition with Rob Hopkins

Are you inspired by the Transition movement? Do you have a burning  question for the Transition movement founder, Rob Hopkins? Or do you simply want to find out more? Join the folks at Transition US for a talk with Rob Hopkins, author of The Transition Handbook and the upcoming Transition Companion! You can tune in online Monday morning.
Date:
Monday, September 12, 2011 – 8:00am – 9:00am PT (11:00am ET)
Descripton:Join us for an insightful conversation with Rob Hopkins, author, Permaculturist and founder of the Transition Towns Movement.
In this conversation we will be asking Rob to go more deeply into the "ingredients of Transition" as well as answering questions supplied by participants. Transition US board member, author and visionary Vicki Robin will be the host for this call.
In July our call with Rob, hosted by Richard Heinberg has been listened to by well over 1,000 people in just a few short weeks. If you have not heard that yet – listen to a recording of our last call with Rob here >>
In case you can't make this talk, mark your calendar for the next exciting event in the Transition universe, a book launch!
Join Green Books, UK and Chelsea Green for a Twitter launch with Rob Hopkins on Thursday 13 October 2011. Rob will be available to answer questions about himself, his new book The Transition Companion and the Transition movement between 2pm and 5pm. All you have to do to take part is use the  hash tag #TTComp on Twitter to post your comment or question.
Rob will be answering the questions during the session and then we will post a transcript of the entire session, to  make sure that no-one misses out.
Date:  Thursday 13th October 2011
Time: 2pm – 5pm (UK GMT)
Contributor:  Rob Hopkins
Location:  Twitter @robintransition, #TTComp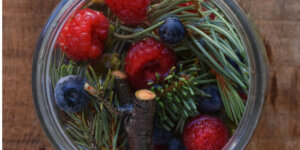 Now fermentation fans and home brewers can rediscover these "primitive" drinks and their unique flavors in The Wildcrafting Brewer. You'll be surprised at how easy making your own natural drinks can be! One of the best ways to begin brewing is by dipping your toes in the bubbling waters of homemade soda. Mountain raspberry and blueberry soda…
Read More