WATCH: Not One Drop Author Riki Ott on Rachel Maddow Show

Marine toxicologist Riki Ott appeared on MSNBC's Rachel Maddow show to talk about the health effects of the toxic crude spill in the Gulf Coast and the harmful chemical dispersants that are being used to try to get it under control.
Doctor Ott is cofounder of "Move to Amend," a group with more than 77,000 members dedicated to passing a constitutional amendment calling for the separation of corporation and state.
About the book: Author Riki Ott, a rare combination of commercial salmon "fisherm'am" and PhD marine biologist, describes firsthand the impacts of oil companies' broken promises when the Exxon Valdez spills most of its cargo and despoils thousands of miles of shore. Ott illustrates in stirring fashion the oil industry's 20-year trail of pollution and deception that predated the tragic 1989 spill and delves deep into the disruption to the fishing community of Cordova over the following 19 years. In vivid detail, she describes the human trauma coupled inextricably with that of the sound's wildlife and its long road to recovery.
Watch the clip from Rachel Maddow (originally posted by FireDogLake):
Read Real People v. Corporate "People": The Fight Is On from Yes! magazine.
Learn more about Not One Drop in our bookstore.
Buy it on Amazon.com.
Find a Green Partner store near you.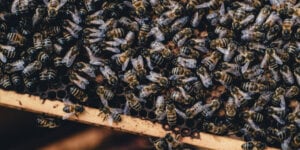 Spring is here and I don't know about you, but I can't wait to get started on all of the projects I mapped out during the cold winter months – including trying my hand at incorporating bees into my homesteading adventure! As a new-bee (get it?!), I need help to get started so I did…
Read More