WATCH AND READ: Les Leopold Live Blogs the Financial Crisis Hearings

The titans of Wall Street, those masters of the universe who nearly wrecked the US economy, are testifying before the House this week. I expect they'll get a stern talking-to.
Les Leopold is live blogging the hearings at OurFuture.org
In its second panel, the Financial Crisis Inquiry Commission, heard from Kyle Bass, of Hayman Financail Advisors, who read a statement that had some real dynamite it. I don't know this guy, but it's pretty clear no PR flack scripted him.

He took direct aim at the fiction that top traders at troubled institutions like AIG must receive top compensation or we will lose the vital "talent" needed to unwind the complicated bets that were made. Those traders at AIG placed more than $450 billion in bets on toxic securities. The traders, of course, made these bets because of the enormous fees and bonuses they received.

But why should we continue to pay these traders, given their disastrous track records and the fact that the taxpayer is bailing out AIG to the tune of more than $150 billion? Unfortunately, the Obama administration is going along with the idea that these traders need to receive large compensation packages because if they leave AIG, it will hurt the taxpayers' investment.

But Bass demolished that argument by saying flat out that he knew of hundreds of unemployed derivative brokers who would gladly to do the job for $100,000 a year instead of for millions. The trading emperors have no clothes.
Related Articles: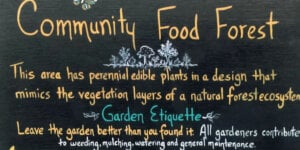 More than 80 percent of the US population now resides in urban areas. This number is projected to rise in the next few decades. Finding ways to maximize use of existing open space is imperative, and increasing access to food through sustainable management of edible landscaping is one important approach among many that are underway.…
Read More