UPDATE: Diane Wilson is Banned from US Capitol…But at Least She's Not Going to Prison!

Diane Wilson, activist and shrimper, was arrested for a peaceful protest during a Senate hearing about BP's oil disaster. She stood up in the middle of the hearing, poured fake oil on herself, and loudly demanded that CEO Tony Hayward be brought to justice for causing the largest environmental catastrophe in US history. It was a gutsy move of the sort we've come to expect from Diane, a master of civil disobedience and an example to every citizen who wonders what power they have to make change happen.
Direct action protest of this sort doesn't require money or colleagues. It puts you, your physical body and psychological presence, on the line for what you believe. It is one of the most powerful and evocative ways to draw attention to an issue–but is rarely without consequence. After all, it often involves breaking the law to protest the injustice that law protects.
Thankfully Diane will be free to find new ways to rock the boat. This just in:
On Friday, August 20, Diane Wilson's hearing took place at the Superior Court of the District of Columbiain Washington. While the oil disaster in the Gulf of Mexico seems to have no repercussions on the managers of BP responsible for it, the International ethecon Blue Planet Awardee 2006, Diane Wilson, was threatened with  three charges and a possible two and a half years in prison because of her protest against BP. In all, shrimper Diane Wilson was facing 840 days in prison for her peaceful protest actions during a Committee hearing in the US Senate and the hearing of BP CEO Tony Hayward.

During her court hearing on Friday, the judge refrained from sending her to jail – on the condition that she does not get arrested for a 9 months, anywhere in the United States. Not an easy condition for the environmental and political activist. On top of that, she is banned  from the US capitol grounds, which makes further protest actions in the capitol impossible for her.

There were two reasons for this court hearing. One was a Senate Energy Committee hearing, during which Diane Wilson poured fake oil on herself in order to protest the blocking of a bill that was supposed to lift the oil companies' liability cap (the Big Oil Bailout Prevention Act). The other  reason was her demanding, with her hands and face covered in black fake oil, that BP CEO Hayward should be charged with a crime. This happened during Hayward's hearing by members of the US Congress.

Wilson stated that since she cannot speak on the Capitol grounds or any of the Senate or House committee rooms, she will speak with a different voice.  As a cofounder of CodePink, a grassroots activist group of women concerned about peace, social and environmental justice, she will begin a hunger strike to raise consciousness to end offshore drilling and to push a legislative bill to lift the liability cap on oil companies, making them paythe full damages.  In other words,the polluter pays.

Wilson plans to officially announce the hunger strike at a labor day rally, Spill into Washington, on September  3-4.
So all Diane has to do is not get arrested for nine months. Can the US agree to not commit any egregious injustice, worthy of her protest, for that long? That would be nice, but we're not going to hold our breath.
If you want more information about the rally, go to SpillIntoWashington.org
Diane is the author of Holy Roller, and An Unreasonable Woman, both available in our bookstore.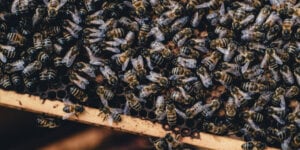 Spring is here and I don't know about you, but I can't wait to get started on all of the projects I mapped out during the cold winter months – including trying my hand at incorporating bees into my homesteading adventure! As a new-bee (get it?!), I need help to get started so I did…
Read More