REVIEW: Poisoned for Profit, by Steve Jensen

Poisoned for Profit – "Background" Levels of Chemicals and Their Effect on Our Kids
"The toxification of the environment – the introduction of poisons into our habitat by industrial and commercial activity – has been a fact of modern life for decades.  But this plague of pollution is so insidious, like the slowly heating pot of water that boils the unsuspecting frog that its true dimensions have crept up on us largely unheeded. So has its impact on the health of our children."
This startling paragraph opens an equally startling new book by husband and wife Philip and Alice Shabecoff, titled "Poisoned for Profit – How Toxins Are Making Our Children Chronically Ill." The Shabecoffs cast their book as a crime story and adopt the "voice of a prosecutor presenting a case to a jury" in pointing the finger at those responsible for the poisoning of our children.  The Shabecoffs conclude that those responsible parties include not only the industries who make the toxic products and dump them into the environment, but also the government officials who not only fail to stop such conduct, but often cooperate in the crime.  The authors also point at scientists who "see no evil" because they are employed by industry or otherwise self-delusional, and at all the rest of us who sit by passively and allow these crimes to continue, without doing anything about it.
How did the crimes occur? In myriad ways, at many places, by a large variety of culprits.  The authors write that "The health and well-being of children anyplace and everyplace in this country are under a like assault from a vast and largely uncontrolled array of hazardous, human-created substances in the environment."  One of the "criminals" "prosecuted" in the book is familiar to the readers of this blog – Monsanto – the maker of 99 percent of all of the PCBs ever used in the United States.  The book documents Monsanto's crimes against children not only as the maker of the environmentally ubiquitous PCBs, but also as the developer of "recombinant bovine growth hormone" or "rBGH" a hormone injected into cows to increase milk production.
Despite Monsanto's determined investment of millions of dollars into a lobbying and public relations campaign to convince consumers and government that rBGH milk is completely safe, several countries in Europe have banned the hormone.  Meanwhile, in the United States, Monsanto has actually filed lawsuits to prevent dairy farmers from accurately labeling their milk as "rBGH free" on the basis that such a label suggests that "rBGH" is harmful.  Worse yet, Monsanto has won some of these suits.  Meanwhile, our children continue to drink milk tainted by a hormone that has never been shown to be safe.  To the contrary, we do know that rBGH milk contains elevated levels of insulin growth factor hormone, which could cause children who drink it to become more susceptible to cancer.
But what about Monsanto's PCBs?  How do they affect children?  The book documents that PCBs have been well-established to cause brain damage in children exposed in the womb and early childhood. "The equivalent of a single drop in 118 bathtubs of a mixture of chemicals called polychlorinated biphenyls (PCBs) can cause a lowering of IQ and a rise in attention deficit disorder in a child exposed in the womb."  Unfortunately, developing brains in young children are highly susceptible to the effects of neurotoxins such as PCBs.  When the brain pathways and connections that multiply so quickly in early childhood are interrupted, slowed, or halted by a chemical exposure, too often the child will never have a second chance to create those critical connections.  Thus, the damage is permanent.
So how do the Shabecoffs suggest that this problem be fixed?  They call for strengthening the laws governing the manufacture, use, and sale of chemicals, along with strong enforcement of such new laws. They call for "eliminat[ing] the common corporate practice of settling lawsuits with a denial of guilt, and, in essence, blackmailing families into silence." More radically, the authors also suggest reforming the entire concept of corporate existence – including by discarding the notion that corporations should have the same (or better) legal rights as people.
The authors urge that, ultimately, our children cannot be protected from chemical assault unless and until we all commit to a grass-roots effort to force change in industry and government conduct. I believe they are right.
What do you think?
Read the original review here…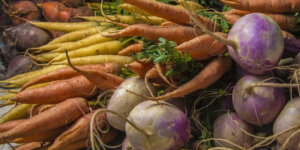 If you love to cook with fresh produce but happen to live in a climate where it's nearly impossible to access during the winter months, we feel ya! Here in the northeast, chilling winds and heaps of snow make it hard to leave the house, let alone grow fresh produce, but that doesn't mean we…
Read More