Poems from Matt Harvey's Where Earwigs Dare

Here are a few poems from Where Earwigs Dare – a newly published collection of Matt Harvey's latest poems—horticultural, whimsical, ecological, political and just plain funny. Matt is a frequent live performer (a hilariously entertaining one, at that) throughout his native U.K., and is involved with the Transition Town movement.
THE COMPANY OF LEEKS
down through the generations
we've been generating leeks
we've not won all the prizes
but we've had our winning streaks
won enough to furnish houses –
we've had fewer troughs than peaks
in the company of leeks
rosettes, I've had a few
and then some honourable mentions
to see a leek you, yourself, grew
receiving plaudits and attention
when that leek in peak condition
wins a Best Leek Competition
you feel so cock-a-hoop
it calls for cock-a-leekie soup
although it isn't Mum's leek pudding
…it'll do
for what is a leek – what is it like?
let's take a look – let's sneak a peek
a cylinder of bundled sheafs
tortilla wrap of Welsh motifs
a spring onion on steroids
or – roots on – pagan Barbie
close relation of the onion
upside-down Olympic flame
they are Garlic's kissing cousin
they're an eco-party-popper in freeze-frame
a little bit ineffable
a heavy metal daffodil
it makes me feel so affable
the company of leeks
so you can keep your Spanish beach
I'll stay where leeks are within reach
– the tasty part of vichyssoise –
and while the world around me sleeps
beneath the undemanding stars
I'll keep the company of leeks
~
THINK BEFORE YOU PRINT THIS POEM
made entirely from offcuts and recycled popular hits,
hand stitched non-seamlessly together
to see a hot tub in a council skip
and heaven in a bald tyre
behold infinity in your local tip
and eternity in some frayed electrical wire
it seems one man's chimney pot's another man's top hot
one man's bauble is another man's jewel
one man's cheapskate's another man's skip-rat
one man's chip fat's another man's fuel
one man's cheek is another man's chutzpah
one man's puddle is another man's foot spa
broken umbrellas, malfunctioning kettles
empty containers of various metals
that never quite did what it said on their tins
these are a few of my favourite things
and one man's tip is another man's temple
one man's junk is another man's joy
one man's meat is another man's pen pal
one man's man is another girl's boy
one man's popgun's another man's uzi
one man's grit is another man's muesli
leftovers, hand-me-downs, chuckaways, offcuts
used, pre-loved, second-hand, rejects and cast-offs
all the fresh junk that this rampantly unsustainable consumer society brings
these are yet more of my favourite things
when the cold bites, when my skip leaks
when I've lost my zest
I simply dismember my favourite things
and then I don't feel so stressed
~
ABOUT A BEE
with a low matchmaking murmur
from bloom to bloom fumble with fervour
the honeybees
we owe them
but let's not assume
we know them
for we project on to the bee
utopian society
their attitude, their industry
the bee's seen as exemplary
I'll quarrel with moralists
the bee to me
is seasonal accessory
nature's necessity
honey maker, pollen picker
stamen shaker, pistil licker
floating voter
stigma stroker
window basher, private dancer
picnic crasher, lip enhancer
blank-and-yellow hive dweller
anaphylaxis point of access
unexpected aviator, blind dater, pollinator
distant lawnmower impersonator
metaphor provider, inflorescence inspector
hairdo inspirer, nectar collector
these things and more are what make me
make much ado about a bee
~
WHERE EARWIGS DARE
A silver trail across the monitor;
fresh mouse-droppings beneath the swivel-chair;
the view obscured by rogue japonica.
Released into the wild, where earwigs dare –
you first went freelance – and then gently feral.
You worked from home – then wandered out again,
roughed it with spider, ant, shrew, blackbird, squirrel
in your won realm, your micro-Vatican.
No name conveys exactly what it is –
Chalet? Gazebo? You were not misled
by studios, snugs, garden offices,
workshops or outhouses. A shed's a shed –
and proud of it. You wouldn't want to hide it.
Wi-Fi-enabled rain-proof wooden box –
a box to sit in while you think outside it.
Self-rattling cage, den, poop-deck, paradox,
hutch with home-rule, cramped cubicle of freedom,
laboratory, thought-palace, bodger's bower,
plot both to sow seeds and to go to seed in,
cobwebbed, Cuprinol-scented, Seat of Power.
Matt Harvey's Where Earwigs Dare is available now.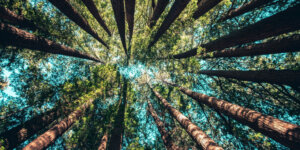 Gary Paul Nabhan is an internationally celebrated nature writer, food and farming activist, and proponent of conserving the links between biodiversity and cultural diversity. He holds the W.K. Kellogg Endowed Chair in Sustainable Food Systems at the University of Arizona Southwest Center, where he works with students, faculty, and non-profits to build a more just,…
Read More