Planting? Think "Permaculture" with Gaia's Garden: Second Edition
Many people mistakenly think that ecological gardening—which involves growing a wide range of edible and other useful plants—can take place only on a large, multiacre scale. As Hemenway demonstrates, it's fun and easy to create a "backyard ecosystem" by assembling communities of plants that can work cooperatively and perform a variety of functions, including:
Building and maintaining soil fertility and structure
Catching and conserving water in the landscape
Providing habitat for beneficial insects, birds, and animals
Growing an edible "forest" that yields seasonal fruits, nuts, and other foods
Learn more about Gaia's Garden, Second Edition: A Guide to Home-Scale Permaculture in our bookstore.
Buy it on Amazon.com.
Find a Green Partner store near you.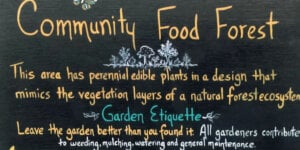 More than 80 percent of the US population now resides in urban areas. This number is projected to rise in the next few decades. Finding ways to maximize use of existing open space is imperative, and increasing access to food through sustainable management of edible landscaping is one important approach among many that are underway.…
Read More