LISTEN: "Nothing New": Activist Diane Wilson on the Gulf Coast Oil Spill

Diane Wilson, author of An Unreasonable Woman: A True Story of Shrimpers, Politicos, Polluters, and the Fight for Seadrift, Texas appeared on KPFA radio's The Visionary Activist to talk about her past experiences with oil and chemical companies. This isn't her first experience with polluters, and, depressingly, all the lies and obfuscation from BP are nothing she hasn't heard before.
From KPFA.org:
Caroline welcomes 2 extraordinary voices for the sea: Diane Wilson, 4th generation Gulf Coast fisher-woman, from once beautiful Sea Drift, Texas, triumphant against all odds taker on of polluting corporations, Formosa, Dow Chemical, BP, author of "An Unreasonable Woman," and "Holy Roller." AND Martin Prechtel, master of eloquence, story guide to dynamic reverence, native of New Mexico, a leader in the Mayan village of Santiago Atitlan, author of innumerable books including "The Disobedience of the Daughter of the Sun: Ecstasy and Time." www.floweringmountain.com
Both have experienced the death of much close to their hearts beauty and cooked their grief into effective words and actions for all that we love at this time of Dire Beauty.

Related Articles: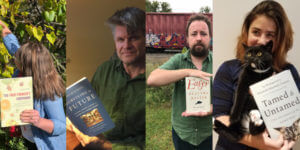 Are you new to the Chelsea Green community and aren't sure which book to read first? Or maybe you're a long-time fan and want to continue your binge-reading but need some fresh ideas. Regardless of how you got here, we can help! From the enlightening and thought-provoking to the quirky and fun, we, the Chelsea…
Read More