Listen: Joan Dye Gussow and Marion Nestle on Heritage Radio's The Main Course show

Two key figures in the sustainable food movement came together in a terrific radio interview for Heritage Radio Network's "The Main Course" program on  October 24th. Hosts Patrick Martins and Katy Keiffer spoke with author and activist Marion Nestle and our own Joan Dye Gussow, whose new book is Growing, Older: A Chronicle of Death, Live, and Vegetables.
You can hear the interview in its entirety here.
"Together, Nestle and Dye Gussow constitute an amazing meeting of the minds when it comes to championing all things sustainable, and affecting change in broken food and distribution systems, failed academic institutions, and obsolete ideas. The gang discussed food politics at large, the sticky situation of labeling food, and how to make the public see that public health is attached to domestic food policy…" (from the Main Course website)
Joan Dye Gussow is the author of This Organic Life and Growing, Older, both available now.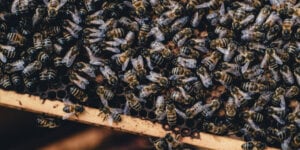 Spring is here and I don't know about you, but I can't wait to get started on all of the projects I mapped out during the cold winter months – including trying my hand at incorporating bees into my homesteading adventure! As a new-bee (get it?!), I need help to get started so I did…
Read More