From the Farmstead Creamery Advisor, 10 Questions for Aspiring Cheesemakers

Gianaclis Caldwell, award-winning cheesemaker, goatherd, and author of The Farmstead Creamery Advisor, wanted to make sure her book brought the notion of small-scale dairy farming down to earth. Not because there's no romance in a close relationship with animals and the earth, but because it takes a LOT of work to maintain a successful creamery. It can be frustrating, and Murphy's Law (i.e. anything that can go wrong, will) exerts a force not unlike the Laws of Thermodynamics. Especially with animals as clever and willful as goats! They'll always figure out if you left a gap in the fence, they'll eat the wrong thing and get sick, they'll eat your raspberry canes before you get any fruit, etc.
Take this brief quiz to see if you're up for the task.  The book looks at these questions in greater depth:
 Ten Questions to Test Your Suitability

Do you like to get up early – every day of the year and for many years to come?
Do you mind working late into the evening – and then getting up early the next day?
Do you mind working hard between getting up early and going to bed late?
Does your spouse or partner also enjoy these hours?
Do you have a good head for business?
Do you have an artistic or creative flair?
Can you be satisfied with repetitive labor and a lot of dishwashing?
Do you have a great love for working with animals, no matter how exhausted you are?
Can you deal well with constantly changing challenges and problems, including animal deaths, equipment failure, product loss, possible lawsuits and product recalls, and rising insurance and power costs?
Do you mind working for below minimum wage for several years, or do you have an independent source of income to help pay bills?
Get a copy of this essential guide during our Gardening & Agriculture sale, which ends next Wednesday!
Thanks to the bloggers over at GoatLove for mentioning this!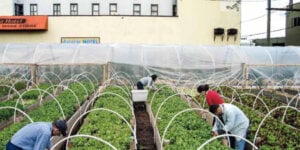 What if farms and food production were integrated into every aspect of urban living—from special assessments to create new farms and food businesses to teaching people how to grow fruits and vegetables so farmers can focus on staple crops. Urban farming is a story of recovery, of land and food, of people, and of the…
Read More