DIY U: Welcome to the Communiversity

An intriguing experiment in community-oriented higher education is coming to Sandpoint, Idaho: it's called the Communiversity. It's not a college. It's a cross-generational, interdisciplinary learning center.
From the Bonner County Daily Bee:
SANDPOINT — No one is using qualifying phrases like "instead of" or "apart from." To the contrary, members of the local business, education and government communities are careful to note that they believe a proposed new plan for higher education will complement, not compete with, the Wild Rose Foundation's pledge to build a University of Idaho campus here.

But with that plan on the back burner for more than two years now, excitement has shifted to a wholly different kind of university concept.

"It's called a 'Communiversity,'" said Connie Kimble, who oversees the individualized occupational training for the work-based learning program at Sandpoint High School. "It's the same idea we've been talking about for years.

"The Wild Rose Foundation wanted to build a campus, but got stopped because of economic reasons," she added. "In that case, a single entity would have driven things, but under this model, the community drives it."

Kimble first heard about the Communiversity concept while attending an education seminar in Atlanta. The first such institution, she learned, got underway in 2005 when a Georgia firm called the Warren Featherbone Company donated 127,000 square feet of unused manufacturing space on seven acres of land to create a community learning center in Gainesville, Geo.

By the following year, the City of Gainesville had partnered with surrounding communities, as well as nearby Brenau University, the Lanier Technical College and the Georgia Power Company, to bring multiple financial and educational resources together under the single umbrella of the Featherbone Communiversity. Along with degree-oriented classes, the campus offered myriad continuing education and special interest courses, coupled with a business incubator that helped carry entrepreneurial dreams forward and an interactive children's "Imaginarium" designed to spark a lifelong passion for learning.

Kimble returned from Atlanta convinced that she had seen the direction for higher education in her own community.
Related Articles: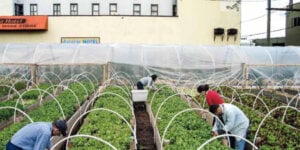 What if farms and food production were integrated into every aspect of urban living—from special assessments to create new farms and food businesses to teaching people how to grow fruits and vegetables so farmers can focus on staple crops. Urban farming is a story of recovery, of land and food, of people, and of the…
Read More