An Open Letter to OSHA, By Diane Wilson

Diane Wilson, author of An Unreasonable Woman, has written to the Occupational Safety and Health Administration, expressing concern over hazardous conditions present at the Formosa Plastics Facility in Point Comfort, Texas. Formosa Plastics in Taiwan was recently discovered to have 302,000 times the safety limits of carcinogens in the area's soil and groundwater (the company has since announced there are no ways for the toxins to escape).
LETTER TO OSHA

We are the Injured Workers United from Calhoun County, Texas. We are writing this letter in the hope that we can have a meeting with you to express our concern about the Formosa Plastics facility in Point Comfort, Texas. We are former and current workers of Formosa who formed a group in order to support each other through our disabilities, illnesses, financial hard times, and the experience of working under a company that, we believe, has shown, and continues to show, a high disregard for its workers, community, and the environment. Some of us have been working at Formosa Plastics, Point Comfort, Texas since the plant's start up in 1981. Many of us have given eighteen years, twenty years, twenty-five years, and twenty-seven years of service to a company that has shown a consistent callousness for the worker and a dangerous inaptness about how they run their company.

Recently, the EPA hit Formosa Plastics with a $13 million penalty. This is not news to us. Almost all of us are whistle blowers. We have documented unreported EDC releases, unsafe towers, tack welded ladders, and uncontained vinyl chloride leaks so plentiful that the alarms were shut off in the control room. These complaints were sent to Formosa's management, where they went nowhere. A few more of us were whistle blowers for the state and federal agencies and provided information in 2001 for the wastewater investigation in which the FBI subpoenaed Formosa's wastewater documents. That went nowhere, too. A toxic investigator said in our last meeting with him in 2009 that even though the EPA/FBI/Texas environmental task force had a case against Formosa, the investigation was dropped.

Certainly, the violations haven't stop. We suppose that is the reason for the recent $13 million settlement/Consent Decree against Formosa Plastics. I guess even the EPA gets fed up. Recent findings by EPA investigators at the Formosa facility in Point Comfort, Texas showed extensive Clear Air Act leak detection and repair violations, including failure to properly monitor leaking components (500 in one unit), failure to include chemical manufacturing equipment in its leak detection and repair program, and failure to timely repair leaking equipment. The inspectors also found "extensive" leak detection and repair violations, as well as other hazardous waste violations at the site and wastewater discharge violations.

In January 2009, the science journal Ecotoxicity, published a report by scientists at Texas A&M. The report revealed changes in chromosome structure and other genetic damage in cattle as far as six miles downwind of Formosa. The changes in chromosome structure and other genetic damage can increase the animal's risk of cancer and reproductive damage. Because of the strong, steady wind from the southeast, researchers expected that if Formosa Plastics was the main culprit, then cattle located downwind or northwest from the facility would show larger genetic disturbances. The results provided a "strong indication of increased damage." Wesley Bissett, lead study author and veterinarian at Texas A&M College of Veterinarian Medicine, said the cattle with the DNA damage were "orientated around the Formosa facility, with the highest damage occurring with those nearby and those downwind." Bisset reported damage to cattle both within close proximity of the Formosa facility and in areas where the prevailing winds would blow the toxic gases.

In October, 2009 the EPA conducted a meeting in Port Lavaca, Texas regarding Formosa's extensive ethylene dichloride contamination that has been caused, in part, by their process exceedances, overflows, spills, and general inadequate housekeeping that has forced closure of a nearby state rest area on Highway 35, buy-out of subsequent nearby property, and the contamination of the groundwater in 2 millions part per billion and nearby Cox Creek in the thousands part per million. The safety of local water wells is unsure at this time.

Our reasons for writing are several. We believe that Formosa's poor environmental record can only mean that their occupational record is equally suspect. We, ourselves, are proof of it. Many of us have documented thrombocytosis, neurological damage, cognitive impairment, severe peripheral neuropathy that can only be treated with a surgically implanted plant that delivers morphine to the spinal nerves 24/7. One member is now in the hospital undergoing repeated surgeries to remove cancerous tumors. Another member has a friend in his unit that died from brain cancer. Another worker that sniffed the leaking valves and flanges, for which the EPA recently cited Formosa, died of angiosarcoma, liver cancer. A number of workers have developed knots on their heads and have been told by friends to get a biopsy, but they haven't because they are afraid of what they will find. Brain Cancer.

The concern abut brain cancer among the workers has been so severe that Formosa sent out a memo to all the vinyl employees that they were bringing in a doctor who could talk about brain cancer. Basically, the doctor told the concerned workers that there was no link between vinyl chloride exposure and brain cancer. Who knows what caused it. Probably the barbeque they ate. Too much water. After all, the dose makes the poison.

One of our injured workers was involved in Formosa's daily logging of vinyl chloride leaks in the PVC unit. He said the leaks ranged from 1.2 to 7 to 13 to 35 to 177 to 987 to 2,000 parts per million, and this for every hour of very day of every year. And he was there for 25 years. Another time EDC (ethylene dichloride) was sent in error to the PVC/VCM unit and the workers waded in the stuff for three days with nothing but rubber boots and gloves to protect them. Another time, the wastewater line was tied into the drinking water line and the workers drank wastewater-tainted coffee. This worker's last act at Formosa was after a supervisor requested he falsify a four-ton vinyl chloride release so that the company could report 2.79 pounds to the EPA.

Randy Smith, vice president and general manager at Formosa Plastics, Point Comfort, Texas recently, and in reference to the $13 million settlement, said, "there is no significant environmental or health issues." That is ludicrous and deserves a response. It is one of the reasons we are requesting a meeting with you. Hopefully you can help us understand why OSHA in Corpus Christi has responded to every complaint we have sent them (eight in one year's time) with a letter to Formosa, then subsequently closing the case.

Our group is currently consulting scientists from Tulane University, Texas A&M University, and University of Texas Medical Branch in Galveston who have scientific knowledge and expertise regarding exposures, health effects, and risks that many of these chemicals have. The hospitals in Taiwan call the worker illnesses related to Formosa the "Formosa Syndrome." We have the same problem here in Texas.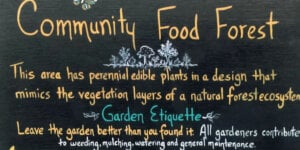 More than 80 percent of the US population now resides in urban areas. This number is projected to rise in the next few decades. Finding ways to maximize use of existing open space is imperative, and increasing access to food through sustainable management of edible landscaping is one important approach among many that are underway.…
Read More