What do Hugo Chavez, Vandana Shiva, and Diane Wilson Have In Common?
Every year since 2006, Ethecon, the Foundation for Ethics and Economics, in co-operation with Otto Piene, the international famous ZERO-artist, has awarded two international prizes: The "Blue Planet Award" is dedicated to persons for their outstanding services to the salvation and preservation of our planet; and its complement, the "Black Planet Award", a mock-prize to denounce people prominently responsible for ruining and destroying our planet.
Former winners of the Blue Planet Award (ehem, the good award) include Vandana Shiva, Hugo Chavez, and of course Chelsea Green's very own Diane Wilson, author of An Unreasonable Woman: A True Story of Shrimpers, Politicos, Polluters, and the Fight for Seadrift, Texas.
Announcing…

The winners of this year's both international ethecon prizes have been chosen: The "Blue Planet Award 2009" goes to Uri Avneri, the Israeli peace activist; the "Black Planet Award 2009" is to vilify the Wang Family, as well as the president of the Formosa Plastics Group (FPG), Mr. Lee Chih-tsuen, and its management in Taiwan.

End of July 2009 was the deadline for filing any proposals as to the potential recipients of these awards. Eventually, numerous nominations were passed in by a variety of social movements from four countries. Several meetings of the Foundation's Award Commission were held to examine all these proposals; on September 1st, the Board of Directors determined this year's winners as follows. Both ethecon prizes will be, as is customary, awarded in a public ceremonial act that will take place in Berlin / Germany on November 21st 2009.

The Blue Planet Award 2009 will be given to Uri Avneri, the Israeli activist for peace and human rights. Born in Germany as Helmut Osterman, he moved, at the age of ten, to Palestine where, since 1948, he has been campaigning for peace between Israelis and Palestinians and for a fruitful coexistence of their two states-to-be. For these purposes, Avneri fought in word and deed, and was hence exposed to severe acts of public repression and even threats on his life. Uri Avneri is also known as a leading representative of the Israeli peace network Gush Shalom.

The Black Planet Award 2009 will be presented to the management of the Formosa Plastics Group and, in particular, to its CEO, Mr. Lee Chih-tsuen, as well as to its founder and capital provider, the Wang Family (whose personal fortune is estimated to be around 70 billion Euro). This company, founded in 1954 and now worth several billion Dollars, is one of the last producers of PVC, that infamous substance which is held responsible for a number of severe health risks such as–to name but a few–cancer, vascular diseases, circulatory disorders and even miscarriages and congenital defects. Moreover, FPG is widely known for its scandalous attitude towards the environment and health protection.

Blue Planet Awards have so far been awarded to: Diane Wilson/USA (2006), Vandana Shiva/India (2007), José Abreu and Hugo Chavez/Venezuela (2008). With a Black Planet Award have been pilloried: the management and shareholders of MONSANTO (2006), NESTLÉ (2007) und BLACKWATER/XE (2008).

Contrary to the thousands of foundations that originate from companies, families, churches, political parties or states, ethecon is one of the few 'grass-root foundations' whose main purpose is the concern for future generations. At the moment, the foundation has eleven chief sponsors; donations and additional sustaining members are highly welcome.

For further information: http://www.ethecon.org/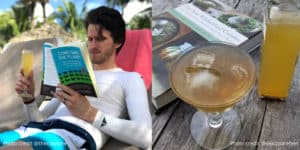 Wondering what to read this summer? Don't worry, we have you covered! Grab your towel and claim the best pool chair or relax at your homestead with one of these perfect summer reads. Whether its nature reads, to healing your gut, everything wild, or inspirational books you'll have your nose in a book all summer long…
Read More