Waxman-Markey, Cap-and-Dividend, and Real Climate Solutions

A little over a month ago, the Washington Post ran a piece on Peter Barnes, author of Climate Solutions: A Citizens Guide and Capitalism 3.0, that we somehow missed. But it was a good one, in light of the Waxman-Markey climate change legislation before Congress.
Now that the bill's been weakened to the point where something like 85% of pollution permits will be given away free to historic polluters (as Chelsea Green EIC Joni Praded said, "no dividends from giveaways!"), this is a good time to put pressure on lawmakers to pass real Cap-and-Dividend legislation.
From the Washington Post:
For several years, Peter Barnes has been peddling a Big Idea about how to design climate change legislation so that it might actually be popular. Now he might finally get his day in the sun.

The idea is simple: Make companies pay for greenhouse gas emissions by auctioning off allowances — then send Americans equal checks for their share of the amount collected. He calls it "cap and dividend," and it resembles the plan Alaska uses for sharing oil royalties with residents by sending them annual checks.

An indication that Barnes's idea could become popular came last Wednesday: A version of it was introduced as legislation by Rep. Chris Van Hollen (D-Md.), co-chairman of the Renewable Energy and Energy Efficiency Caucus.

This year promises a vigorous debate on the climate issue. President Obama has vowed to push for climate change legislation that would establish a ceiling on greenhouse gas emissions and allow companies to trade allowances, a combination of regulation and market mechanism that could force Americans to pay extra for anything made with carbon, from electricity to gasoline to plastics. That's a potentially complicated and unpopular plan; its foes are already raising cries of "tax" to frighten voters and lawmakers at a time of economic distress.

Enter Barnes. He's an unlikely player in Washington. A Harvard graduate, he began his career as a journalist and wrote books with titles like "Pawns: The Plight of the Citizen Soldier" and "The People's Land." But then, he later wrote, he realized that "the market is mightier than the pen" and if he wanted to make the world "a little fairer," he should go into business. With a few friends, he started a solar energy company in San Francisco in 1976. After President Reagan eliminated tax breaks for solar power, the firm closed its doors.

In the mid-1980s, he co-founded Working Assets as a socially responsible money management firm. Its first ad displayed an ominous photo of a nuclear power cooling tower with the words: "It's 11 p.m. Do you know where your money is?" Later the company moved into credit card and telephone service businesses. Every time a customer used the card, Working Assets donated 1 percent — a portion of the merchant's service charges — to good causes. Working Assets was soon making and giving away millions of dollars.

After retiring with a comfortable fortune, Barnes turned his attention to the problems of capitalism and climate change. In a book called "Capitalism 3.0," he wrote about how the economic system failed to protect common resources, such as air and water, because people didn't have to pay to pollute them.

His solution is a mix of capitalism, populism and environmentalism.

In "Who Owns the Sky?", he said that people who pollute the air should pay into a "Sky Trust" that would belong to everyone. "The trouble is, markets have no appreciation for intrinsic value. They're blind and dumb and stunningly mindless; they do what they're programmed to do with ruthless aplomb. That wouldn't matter if we could run our lives without markets. But we can't. We need to communicate with markets because markets determine how resources are used."

His plan would force the first sellers of fossil fuels — about a thousand companies such as coal mining firms or oil companies — to pay for carbon emissions. Those capturing and safely storing carbon dioxide emissions, something coal plants are looking at, would get credits.

Not everyone would come out whole. "Those who burn more carbon will pay more than those who burn less," Barnes wrote. "If you drive a sports-utility vehicle, you'll use more sky than if you ride a bus; hence you'll pay more scarcity rent. Since your dividend is the same no matter what, you'll come out ahead if you conserve [energy] and lose money if you don't."
Related Articles: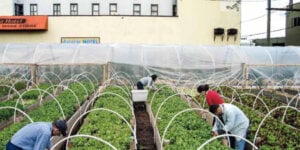 What if farms and food production were integrated into every aspect of urban living—from special assessments to create new farms and food businesses to teaching people how to grow fruits and vegetables so farmers can focus on staple crops. Urban farming is a story of recovery, of land and food, of people, and of the…
Read More