WATCH: Eat the Suburbs: Peak Oil and Permablitz Gardening
Eat the Suburbs: Gardening for the End of the Oil Age does a fine job of drawing a line from peak oil to food security.
In this short film by Tanya Curnow, Richard Heinberg explains peak oil thusly:
Peak oil is a geological peak. It's not just a problem of not drilling enough wells or not throwing enough money at the problem. When the first well is sunk into an oil field, it's under pressure. The oil rushes out. It's very easy to extract. As time goes on the pressure declines—we have to start pumping the oil, and beyond a certain point it is physically impossible to continue increasing the rate of extraction. So there's a natural kind of bell-shaped curve of recovery for any given oil field, and that's peak oil.
And as society adjusts to the downward side of the curve, a fundamental change to the energy infrastructure of modern society will need to take place— either voluntarily, now, while we may still be able to do something about it, or by necessity later, when it will be much more painful. One lawn-turned-food garden may not make much of a difference, but millions of backyard vegetable gardens would certainly aid in the transition to a post-peak world. That's where the permablitz comes in.
In a permablitz, a bunch of folks get together to share their knowledge and skills about food production in a sort of permaculture-based home makeover. Watch the film to see what I'm talking about.
[youtube=DT2z1zuQTJg]
Visit the Permablitz site to learn more.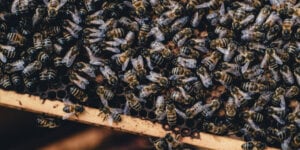 Spring is here and I don't know about you, but I can't wait to get started on all of the projects I mapped out during the cold winter months – including trying my hand at incorporating bees into my homesteading adventure! As a new-bee (get it?!), I need help to get started so I did…
Read More