WATCH: Author Malcolm Wells' Earth-Sheltered Office
Imagine lying in the cool grass on a warm spring day, soaking up the sun, feeling the earth between your toes, counting the clouds—then climbing down off your roof to go inside and get yourself a glass of lemonade.
An earth-sheltered house just might be the next best thing to living in a Hobbit hole—and for some of us, they're a dream come true.
Architect and author Malcolm Wells wrote the book on earth-sheltered houses. And now that book is back in print, with a new foreword by the author. Chelsea Green is proud to re-release The Earth-Sheltered House: An Architect's Sketchbook, a classic in the field of green building.
This video gives a brief tour of the entrance to the courtyard of Wells' underground office in Cherry Hill, New Jersey.
Thanks to Greg LaVardera for the video.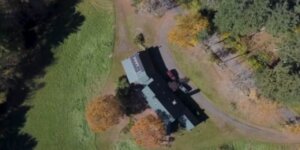 Not only are Chelsea Green authors experts in their fields, from organic farming to green building, but they're also part of our extended family. So it's always nice when we get an update on how things are going! The following note is from James Kachadorian, author of The Passive Solar House. To paraphrase Mark Twain,…
Read More