We Cannot Go Back: This Recession Must Lead To A Sustainable Economy

Robert Costanza, a professor at the University of Vermont, released the following paper—which was picked up on The Oil Drum—on our best path to a sustainable economy. He argues that this current financial recession is the result of an economic system that depends on perpetual growth boiling over. Perpetual growth is impossible. What's needed now is a new economic system that takes into account human well-being, instead of just marketed goods and services.
Here's an excerpt:
Real economic efficiency implies including all resources that affect sustainable human well-being in the allocation system, not just marketed goods and services. Our current market allocation system excludes most non-marketed natural and social capital assets and services that are critical contributors to human well-being. The current economic model ignores this and therefore does not achieve real economic efficiency. A new, sustainable ecological economic model would measure and include the contributions of natural and social capital and could better approximate real economic efficiency.

The new model would also acknowledge that a complex range of property rights regimes are necessary to adequately manage the full range of resources that contribute to human well-being. For example, most natural and social capital assets are public goods. Making them private property does not work well. On the other hand, leaving them as open access resources (with no property rights) does not work well either. What is needed is a third way to propertize these resources without privatizing them. Several new (and old) common property rights systems have been proposed to achieve this goal, including various forms of common property trusts.

[…]

The long term solution to the financial crisis is therefore to move beyond the "growth at all costs" economic model to a model that recognizes the real costs and benefits of growth. We can break our addiction to fossil fuels, over-consumption, and the current economic model and create a more sustainable and desirable future that focuses on quality of life rather than merely quantity of consumption. It will not be easy; it will require a new vision, new measures, and new institutions. It will require a redesign of our entire society. But it is not a sacrifice of quality of life to break this addiction. Quite the contrary, it is a sacrifice not to.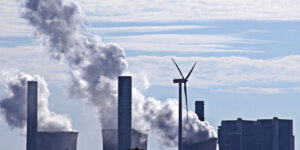 We have long been taught that evolution is a process that occurs gradually over millions of years, that change happens slowly without much attention. We've come to learn that in reality, evolution happens in fits and starts — very slowly for long periods, then in sudden spurts of rapid change. It may be triggered by…
Read More