The Gort Cloud: A Must Read … for Wineries?

Richard Seireeni's The Gort Cloud: The Invisible Force Powering Today's Most Visible Green Brands is an important guidebook for any entrepreneur looking to grow a sustainable business and connect with like minded eco-preneurs. It looks at the triumphs and the pitfalls of some of the most well-known green businesses, and provides a roadmap to the ever-expanding web of appropriate-scale, ethical corporations.
And, according to Reign of Terroir, it is particularly useful to wineries looking to share information and create a tightly-woven community of vintners.
The Gort Cloud, written by Richard Seireeni, a "30-year veteran in brand consulting and marketing", is the most important internet savvy 2.0 'how to' business book I've yet encountered. And every winery should read it. It offers a compelling strategy for brand positioning based entirely on 'Green' credentials. The book, subtitled The Invisible Force Powering Today's Most Visible Green Brands, provides a significant deepening of our understanding of how exactly a business, for our purposes, a winery, might successfully use the internet to secure and extend brand recognition. All that is required is a computer, a story, and commitment to environmentally-friendly practices.

So what is the Gort Cloud? From the book's blurb:

"[It is] a vast and largely invisible network of NGOs, trendspotters, advocacy groups, social networks, business alliances, certifying organizations, and other members of the green community that in its entirety has the power to make or break new green brands."

The book documents a series of case studies, successful companies, from Dr. Bronner's Magic Soap, TerraCycle, to Ben and Jerry's Homemade, Green Mountain Coffee Roasters and Stonyfield Farm, all of whom have participated, in varying degrees, in the Gort Cloud.


And of its discovery, Mr. Seireeni writes,

"As I was busy sourcing information on these companies and their markets, I continually came across families of similar organizations, all sharing some aspect of sustainability. They included individual green businesses and green business alliances; advocacy groups; nongovernmental organizations (NGOs), government, and education Web sites; bloggers; trendspotters; social networks; certifying groups, technical libraries; news organizations; green guides and shopping sites; authors' sites; and so many others."

"Despite the fuzzy nature of the beast, I realized that this vast network is connected. People know one another. They share information…. They form alliances and cross-discipline exchanges…. [T]he network is not limited by the internet but facilitated by it. The internet provides convenient glue, but the contents spill out into the real world."

The book's endpapers provide a helpful visual aid of the Gort Cloud. It is reproduced on Seventh Generation's web site.


So how does this book's approach to brand promotion and marketing differ from others? After all, we have a multitude of titles to choose from, some of the best listed by the author himself: Cradle to Cradle, Eco-economy, Harvard Business Review on Business and the Environment, The Sustainability Revolution, The Ecology of Commerce, Green to Gold, and Natural Capitalism.

As Mr. Seireeni writes, "This book is more focused. It's written for anyone interested in exactly how others have built green brands and how they developed a following."
Read the whole article here.
Related Articles: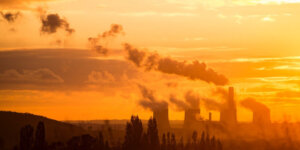 In order to rescue ourselves from climate catastrophe, we need to radically alter how humans live on Earth. We have to go from spending carbon to banking it. A secret unlocked by the ancients of the Amazon for its ability to transform impoverished tropical soils into terra preta—fertile black earths—points the way. The indigenous custom of…
Read More