The Economic "Rock and a Hard Place"

To understand how the banking system was able to crash the world economy, we first need a little background. Thomas Greco (The End of Money and the Future of Civilization), writes Richard C. Cook, gives us that necessary background with a history lesson on the formation of the banks. Almost from day one of the existence of this country, there's been a power struggle between the banks and the government, the elites and the people.
Yes, there's corruption in the system, and maybe the elites do rule—but what can we do about it? Well, says Greco, we can stop waiting for the government to rescue us and create our own system.
From the blog of Richard C. Cook:
Unfortunately, few progressive economists, including Paul Krugman, Joseph Stiglitz, and Robert Reich comprehend the monetary causes of today's disasters. Instead of demanding reforms that would make money the proper servant of a sustainable economy, most call for more stimulus spending; i.e., more government debt, along with "reform" of a financial system that is corrupt down to its very DNA.

So do we really need the bankers' fake currency, today backed by nothing but a federal deficit of $12 trillion and growing by the day?

Greco says we don't, and this is what his book about. But it's not about doing without the necessities of life, or heading for the hills with a gun and backpack. Nor is it about important efforts at macro-level monetary reform like those of the American Monetary Institute, Congressman Dennis Kucinich, or advocates for a basic income guarantee. Rather it's about individuals, groups, and communities taking control of the monetary system at the grassroots level and creating an entirely new basis for trade than bank-owed debt.

Greco writes about "a new paradigm approach to the exchange function." The solution, he says, "is to provide interest-free credit to producers within the process of mutual credit clearing. That is the process of offsetting purchases against sales within an association of merchants, manufacturers, and workers. It will eventually include everyone who buys and sells, or makes and receives disbursements of any kind."

Greco is one of the world's leading experts in describing alternative or complementary currencies. These are self-regulating systems that facilitate "reciprocal exchange," not using government legal tender but which are still allowed under the currency laws so long as taxes are not evaded.

Greco discusses the large and growing worldwide "LETS" movement—Local Exchange Trading Systems, like the Ithaca HOURS system in Ithaca, New York. He describes the Swiss WIR Bank, the longest-running credit clearing system in the world, with over 70,000 members. He writes about the national and international barter exchanges that involve over 400,000 businesses trading at an annual level of $10 billion.
Related Articles: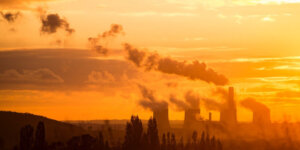 In order to rescue ourselves from climate catastrophe, we need to radically alter how humans live on Earth. We have to go from spending carbon to banking it. A secret unlocked by the ancients of the Amazon for its ability to transform impoverished tropical soils into terra preta—fertile black earths—points the way. The indigenous custom of…
Read More