Sustainable Living Coalition Partners to Bring Green Books to Iowa Libraries

Chelsea Green and the SLC: spreading the word.
The Sustainable Living Coalition is doing some outstanding work, bringing green books to public libraries and spreading the values of sustainability to a wider audience. Chelsea Green is proud to be a part of it, along with our partners in this endeavor, the fine folks at Clipper Windpower and New Society Publishers.
From the Sustainable Living Coalition blog:
The Sustainable Living Coalition partnered with Clipper Windpower, New Society Publishers and Chelsea Green Publishing to bring Sustainable Living Book collections to the Iowa City and Cedar Rapids Public Libraries. The donation is a 'green' book collection focused on various aspects of sustainable living.

Topics include gardening, permaculture, renewable energy, green building, ecology, culture, politics, community building, conservation, simple living, sustainable business, and a host of other subjects. The collection includes DVDs and audio CDs, as well as titles for young adults and children — over 750 book titles in total!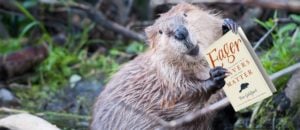 Eager: The Surprising, Secret Life of Beavers and Why They Matter has won the 2019 PEN America E.O. Wilson Prize for Literary Science Writing! A first book by journalist Ben Goldfarb, Eager has received several accolades since its release last year, including being named an Outside Magazine's "Best Book of 2018" and a "Notable Work of Nonfiction"…
Read More