Social Change 2.0 a Winner in the 2009 National Best Books Awards

Great news! Social Change 2.0: A Blueprint for Reinventing the World is the winner of the 2009 National Best Books Award in the Environment – Political/Social category and a finalist in the Social Change Category.
Author David Gershon, founder and president of Empowerment Institute, has spent three decades in the trenches of large-scale societal transformation. His Empowerment: The Art of Creating Your Life As You Want It was a bestseller, and his Low Carbon Diet: A 30-Day Program to Lose 5,000 Pounds, won the "Most Likely to Save the Planet" Independent Publisher Book Award.
Congratulations, David!
LOS ANGELES – USABookNews.com, the premiere online magazine and review website for mainstream and independent publishing houses, announced the winners and finalists of THE NATIONAL "BEST BOOKS" 2009 AWARDS (NBBA) on October 20, 2009. Over 500 winners and finalists were announced in over 140 categories covering print and audio books. Awards were presented for titles published in 2009 and late 2008.

Jeff Keen, President and CEO of USABookNews.com, said this year's contest yielded an unprecedented number of entries, which were then narrowed down to over 500 winners and finalists…

Environmental: Political/Social

Winner:
Social Change 2.0: A Blueprint for Reinventing Our World by David Gershon
High Point
ISBN: 978-0-9630327-7-5
Read the official press release.
Related: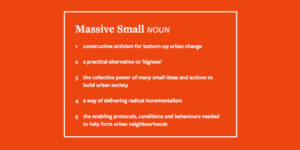 For generations, we've worked collectively as a society to build our cities into vibrant communities where we can progress and flourish together. Over the years, however, we've lost the art of collective and community evolution as our governments step in with their big ideas for urban growth – many of which come at a steep…
Read More