Slow Food Founder Carlo Petrini: Pleasure is a right, responsibility is a duty.

With the economic situation as bad as it is, can we really afford to support sustainable agriculture? It's a question of priorities, says Carlo Petrini, founder of the international Slow Food movement, and a question of waste. If we as a society were more conscientious eaters, we could cut our waste and not have to spend as much on food. And the price of food must be fair—which does not, of course, necessarily mean cheap.
Over the last two decades, journalist and political activist Carlo Petrini has led the grassroots Slow Food movement – which began as a critique of fast food fast life – and watched it grow into a global phenomenon with nearly 100,000 members in 150 countries around the world. This past weekend, Mr. Petrini was in Toronto to receive an Eco-Hero award from the Planet in Focus International Environmental Film & Video Festival. He also met with Slow Food leaders from across Canada who had gathered in Toronto to incorporate Slow Food Canada.

The Globe and Mail spoke to him on his first visit to English-speaking Canada.

Never before has food been such a popular topic in newspapers, magazines and on television. Does this mean progress?

We are in the presence of many paradoxes. We have never talked so much about food, and yet we have never had so much soil that is infertile, or a water table so polluted.

We have never talked so much about food, and yet farmers are disappearing. We have never talked so much about food, and yet it has never been less tasty. Everywhere, all over the world, at every hour of the day, there is always someone on television with a frying pan. You get the recipe, the aesthetic vision of food, but not the history or where it comes from. It risks becoming food pornography. We need instead a new gastronomy, a fuller vision of gastronomy.

What kind of food should we be eating?

Food must be good to eat, because it must be pleasurable. It must be clean, because the production must respect the environment. It must be fair because it must respect those who work the land. If one of those things is not present, quality is not there.

There must be a fair price for the people who produce our food, and a fair price for the co-producer. A fair price does not mean a low price.

How can we afford to pay more for our food when our budgets are shrinking with the economic recession?

Why don't we look at what we waste, instead of what we spend? In Italy, we throw away 4,000 tones of food everyday. If we waste less, we can afford to consume better.

You prefer to call consumers "co-producers." Why?

Because we can decide what we consume – this is where our power lies. We are all accomplices of the current system. When you go home, open your refrigerator and see what a family tomb it is! The parsley is dying, little jars are filled with mould. The refrigerator was invented to preserve food, not to bury it.

What do you say to people who call Slow Food elitist and see it as a gourmet tasting club rather than a political movement?

The day we become elitist, we have lost our mission. I think we are called elitist because society has a bad relationship with food and pleasure. Slow Food wants to reconcile pleasure with duty. Pleasure is a universal right. And responsibility is a universal duty.
Related Articles: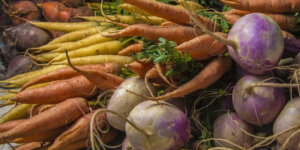 If you love to cook with fresh produce but happen to live in a climate where it's nearly impossible to access during the winter months, we feel ya! Here in the northeast, chilling winds and heaps of snow make it hard to leave the house, let alone grow fresh produce, but that doesn't mean we…
Read More