Send Me Free Stuff, Vol. 1: The Radius Toothbrush
In this video, I review the Radius® Source™ toothbrush.
Is it everything I hoped it would be and more? Did it help me fight cavities, plaque, tartar, and the gum disease…GINGIVITIS? You'll have to watch the video to find out—or live the rest of your life with a knot of regret balled up in your gut, always wondering, but never really knowing, "Did Dennis like the Radius® Source™ toothbrush?"
"Did he?"
The Radius® Source™ is available at radiustoothbrush.com Thanks to Tamu Kemp and the fine folks at Radius.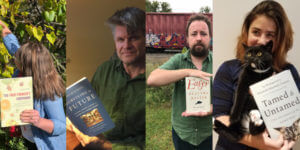 Are you new to the Chelsea Green community and aren't sure which book to read first? Or maybe you're a long-time fan and want to continue your binge-reading but need some fresh ideas. Regardless of how you got here, we can help! From the enlightening and thought-provoking to the quirky and fun, we, the Chelsea…
Read More