RICK SEIREENI: A Leaf or a Volt: The Competition is Afoot

What's this? An electric car cage match between Chevrolet and Nissan?
While, yes, this should have been happening ten years ago, it's good to see more than one car manufacturer sticking its neck out for the next generation of clean personal transportation. While we wait for a good, reliable national rail grid that may never happen, this is one stylish option. Hopefully, we'll be seeing more of these all-electric, zero emissions vehicles within the next few years.
Richard Seireeni The Gort Cloud: The Invisible Force Powering Today's Most Visible Green Brands
Of course, the original contest "concerns a hare and a slow-moving tortoise. The tortoise challenged the hare to a race. The hare soon left the tortoise far behind and, confident of winning, he decided to take a nap midway through the course. When he awoke, however, he found that his competitor, crawling slowly but steadily, had already won the race." And thus we have the Leaf, the new "affordable," zero-emission, four-door, all-electric city-car from Nissan. Keyword: affordable.

Nissan has been criticized for being slow to enter the green market — they have only one hybrid vehicle in their fleet. Impressions to the contrary, Nissan has been hard at work "to leapfrog 'transitional' powertrain solutions like gas-electric hybrids in favor of genuine zero-emissions vehicles." The Leaf promises to be available in the U.S. next year at a price somewhere between $25,000 and $30,000 — considerably less than the Chevy Volt. It will charge in eight hours at 220 volts providing a 100-mile range — plenty for an urban or suburban errand runner for a family of five. The car is already being tested with real customers in Japan. Combine this with smart-grid technology to charge at off-peak hours, and you have an economical and green personal transportation solution.

So where is our Chevy Volt? Hello?

For the latest, we have this from AutoBlogGreen:

It's sort of common wisdom that when the first Chevrolet Volt models become available in General Motors showrooms (or on eBay) in late 2010, they'll be priced at around $40,000. GM hasn't made any official statement declaring this specific price — and for a while there was speculation on which way the ticker would go; would it be $30,000? $35,000? — but for now, $43,000 is the expected average transaction price, and GM will lose money on each Volt at that rate, according to a new story in AdAge.

Well, this is not exactly the way to deliver lots of affordable EVs to a mass market.

Another story in The New York Times suggests that the extended-range Chevy Volt "will achieve a fuel rating of 230 miles a gallon in city driving." That's in part because the car has a back-up gas engine. "Nissan, however, announced last week that its all-electric vehicle, the Leaf, which comes out in late 2010, would get 367 mpg, using the same E.P.A. standards."
Related Articles: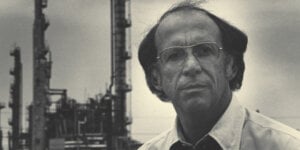 In response to one of the nation's darkest labor-history chapters, Congress passed a law in 1894 making the first Monday of every September "Labor Day," to pay tribute and honor the achievements and contributions of American workers. While the passing of the law helped to improve conditions, standards, and relations there was still work to…
Read More