Rejection 101: An Excerpt from The Organic Farmer's Business Handbook

In The Organic Farmer's Business Handbook, Richard Wiswall shares advice on how to make your vegetable production more efficient, better manage your employees and finances, and turn a profit. From his twenty-seven years of experience at Cate Farm in Vermont, Wiswall knows firsthand the joys of starting and operating an organic farm—as well as the challenges of making a living from one. Farming offers fundamental satisfaction from producing food, working outdoors, being one's own boss, and working intimately with nature. But, unfortunately, many farmers avoid learning about the business end of farming; because of this, they often work harder than they need to, or quit farming altogether because of frustrating—and often avoidable—losses.
This excerpt about learning to cope with rejection was written with the organic farmer in mind, but it could just as easily apply to anyone running a small business.
The following is an excerpt from The Organic Farmer's Business Handbook: A Complete Guide to Managing Finances, Crops, and Staff—and Making a Profit by Richard Wiswall. It has been adapted for the Web.
Farmers aren't always the best salespeople. Neither are a lot of other people. A common stumbling block trips up the best-laid marketing plans. This block is fear, and it can prevent us from being exceptional salespeople. But selling product is an integral part of being in business.
Bumper crops are great if you can sell them. When I'm swimming in beautiful red, ripe tomatoes and see plants loaded with more fruits ready to pick, I need to look outside my normal market channels, and fast. I survey my options: stores and restaurants that are not regular accounts but that I have done business with in the past; wholesalers; and neighboring farm stands and CSAs. I get out the phone book and make a list of potential tomato buyers to call. But then something happens as I reach for the phone . . .
Have you ever found it hard to pick up the phone and call ten new potential buyers? I have, because generally I get only one yes for the ten calls. That's nine no responses for every yes. Not a great average. But so what? What is the big deal? Intellectually and rationally, I understand the reality that the potential buyer already has enough product, or already has a satisfactory supplier. Ultimately, though, my behavior is irrational: It is resistance to rejection—the fundamental and unconscious feeling of dismissal and repudiation. Your psyche cannot separate this connection all the time. On some elemental level, the phone may trigger feelings of a potential high school prom date saying no, or, deeper still, rejection from your parents as a kid.
Good salespeople seem to have a thick skin, being able to take rejection repeatedly, and not take it personally. That's the key—not taking it personally. Of the nine no calls, consciously I understand that the potential buyer just doesn't need or want what I'm trying to sell. If someone at the time called me up and asked if I wanted to buy tomatoes, my answer would be an emphatic (and transparently so) no. The solution to the dilemma is to realize deep down that rejection in sales is not the same as a traumatic rejection of your past. No one likes being rejected, but we must remember to separate marketplace rejection and personal rejection, because sometimes the reality is twenty no responses for each yes. Welcome to Psychoanalysis 101. (I'm sorry, your hour is up. That'll be sixty bucks.)
The only difference between success and failure is that people who succeed are those who get back up again after falling down. And if you need more motivation, remember Vince Lombardi's revelation: The only place where success comes before work is in the dictionary. Go pick up the phone.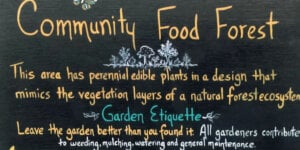 More than 80 percent of the US population now resides in urban areas. This number is projected to rise in the next few decades. Finding ways to maximize use of existing open space is imperative, and increasing access to food through sustainable management of edible landscaping is one important approach among many that are underway.…
Read More