Reign of Terroir: Richard Seireeni Talks Sustainable Wine

Last week, Reign of Terroir reviewed Richard Seireeni's Gort Cloud: The Invisible Force Powering Today's Most Visible Green Brands. And they liked it so much, they asked him for an interview.
Here, Richard talks about his healthy taste for local—and not so local—wines, and shares a little marketing savvy the "greener" wineries can use to get themselves out there (because there are vintners that care about their carbon footprint and sustainable agricultural practices—you've just never heard of them).
From Reign of Terroir:
Admin Do you yourself drink wine?

Richard Seireeni Yes. More than the doctor recommends, I'm afraid.

How do you select a wine?


RS It is mostly driven by availability and price. I'll buy what "looks" interesting at Whole Foods, Trader Joes and the local Canyon grocery store. My real passion is Italian wines, so I'll occasionally go out of my way to find nice Italian reds at a wine shop. But I'm always shocked at the difference I pay for the same bottle in Italy compared to California. And at the end of the day, I have to remind myself that eco means local. For me, that would be wines grown in Santa Barbara.

As (perhaps) a casual observer of wine advertisements, labels, engaging in conversations with wine-drinking friends, how well do you think the industry does to promote the 'green' aspects their product?

RS Not very well. Of course, there is organic wine, which has a poor reputation for taste. I hear its improving. I don't seek out organic, but I suppose I should. On all other levels, I hear almost nothing about sustainable farming, manufacturing and distribution in the wine industry. A couple months ago, while researching the subject, I did come across a vineyard in California that trying to be as sustainable as possible. It seems like a relatively unique story. I am aware of the eco-advantage to plastic corks and non-glass bottles, but this is mostly under the radar.

Winegrowers are notoriously conservative with many quality producers spending hours in the vineyard worrying over endless practical things. Let's start with the small producer. Of course, they have drive and ambition. They would not otherwise be in such a demanding business! How might they be persuaded to engage new media?

RS The driver of preference for most organic foods has been the health and taste advantages plus finding these things at local Farmers Markets where you meet the producer. No so for wine. The health and taste issues are not well publicized for organic wine. Nor do I see a lot being made out of sustainable vineyard practices. That said, we don't tend to associate wine growing with giant polluting agra business. The perception (whether or not it is true) is that it's mostly family vineyards and small-scale production. In other words, I don't think the average consumer is aware of an environmental impact in his or her choice of wine. It's just not front of mind, like it is when choosing a new car for instance.


Many wineries have accomplished great things with respect to environmental enhancements and the improvement in working conditions. But they cannot always use them as selling points. The consumer often pays little attention and popular wine trade mags do not often put the environment or social issues front and center. What might be a winegrower's first steps to engaging elements of the Gort Cloud, to do what programmers refer to as a 'work-around'?

RS Well, I assume that some wine growers are trying to grow sustainably, but it's important to realize that "green" is almost never the driver of preference for any product, green or otherwise. It's almost always something else with green providing halo-effect. That said, producers looking to get maximum price for their products can use gort cloud connections to garner premium pricing. For instance, an eco-conscious winery might reach out to eco-conscious restaurants, grocery chains and food distribution firms within the gort cloud to build premium distribution.

One can engage the Gort Cloud, new media generally, with very little up-front money. Still, budgets are tight. Yet with the wine market filled with a staggering number of choices, the incentive for a producer to draw a distinction is there. Who might the winegrower, especially the smaller one, turn to for basic assistance with new media? Of course, your book would certainly be on my short list!

RS My first suggestion would be to follow the slow food and organic food and sustainably-sourced food groups, which are an aspect of the gort cloud. I'd reach out to the bloggers and trendspotters in these groups for support and echo-effect.


Consumers tend to think that wine is already a natural product, that no further thought needs be given it. Of course, it is not true. Environmental degradation, as with any other agricultural product, it is a part of the price of conventional grape growing. Sustainable methods, Organic and biodynamic approaches, by contrast, are very different. How might their respective certifying agencies, who tend to follow more traditional messaging avenues, better get the word out?

RS Yes, then you have the use of sulfites, which is an historical part of the winemaking process. Nevertheless, there are sustainable farming support and certifying groups that can lend some third party legitimacy to a grower's claims.
Read the whole interview here.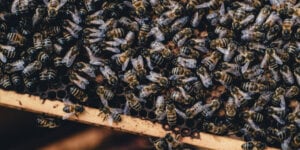 Spring is here and I don't know about you, but I can't wait to get started on all of the projects I mapped out during the cold winter months – including trying my hand at incorporating bees into my homesteading adventure! As a new-bee (get it?!), I need help to get started so I did…
Read More