Permaculture Gardening: Let Nature Do the Heavy Lifting

Nature doesn't till. Nature doesn't need chemical pesticides. And monoculture? Pfff—nature ain't even trying to hear that noise.
So why do we break our backs fighting uphill battles when we can just look at the way natural systems work and, basically, rip them off? Toby Hemenway wants to tell you about a little something called permaculture: it'll save you money, time, and wear and tear on your precious back. He wrote the book on ecological design—and it's now in its second edition. It's called Gaia's Garden: A Guide to Home-Scale Permaculture, and it will change the way you garden.
From the green LA girl book review:
Wonder why it takes so much work and money to keep a tidy grassy lawn or a weed-free veggie garden? It's because you're fighting nature, instead of letting nature work for you. That simple idea's the starting point for Gaia's Garden: A Guide to Home-Scale Permaculture, a book by Toby Hemenway that promises to show you how to harness nature's power towards your own ends.

"Most gardens ignore nature's rules," writes Toby, who points out that nature doesn't till, create monocultures, or rely on chemical pesticides and fertilizers. Do these things and you'll be fighting an uphill battle. After all, tilling means a ruined soil structure and depleted fertility, while planting blocks of the same plant is like creating an all-you-can-eat buffet for all sorts of bugs.

That doesn't mean you have to give up on growing a veggie garden or nice backyard landscape, settling for an unruly, unmanaged tangle of urban wilderness. Gaia's Garden's about including people in nature — and about combining the many segregated elements of the garden into a cohesive whole.
Related Articles: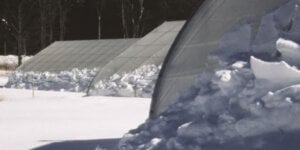 It might seem like a myth that you can grow food in an unheated greenhouse during the winter, but we're here to prove you wrong. As long as there is sunlight there are several techniques you can use to keep your crops warm enough to harvest well into the cold weather. The key? Layers. Just…
Read More