Obama's Challenge Author Robert Kuttner on Deficit Hawks and Entitlements

With the budget deficit rising as the economic stimulus takes effect, deficit hawks—both the Republican and "Blue-Dog" Democrat varieties—are rolling out perennial target Social Security again. Robert Kuttner, co-founder of The American Prospect and author of Obama's Challenge: America's Economic Crisis and The Power of a Transformative Presidency, looks at the flaws in their argument against one of the most successful federal program in history in this article from the Washington Post.
What's wrong with the story of entitlements wrecking the economy? Plenty.

For starters, the $56 trillion "unfunded liability" figure relies on creative accounting. Only about $6.36 trillion is the actual public debt, according to the U.S. Treasury. Most of the number Peterson cites is a combination of the 75-year worst-case projections for Social Security, Medicare and Medicaid.

These three programs face very different challenges and remedies. Social Security's accounts are actually near long-term balance. The Congressional Budget Office puts the 75-year shortfall at only about one-third of 1 percent of projected gross domestic product.

Social Security is financed by taxes on wages — and since the mid-1970s, wage growth has stagnated. If median wages rose with productivity growth, as they did during the first three decades after World War II, Social Security would enjoy a big surplus. Even without a raise for working America, Social Security needs only minor adjustments.

Medicare really does face big deficits. But that's because Medicare is part of a hugely inefficient, fragmented health insurance system. It makes no sense to "reform" Medicare in isolation.

If we just cap Medicare, needy seniors would get bare-bones care while more affluent people could supplement their insurance out of pocket. The decent cure for Medicare's cost inflation lies in comprehensive universal health insurance so that the entire system is more efficient and less prone to inflation. You don't hear many budget hawks supporting that brand of reform.
Image courtesy of guardian.co.uk.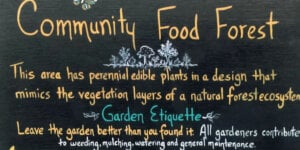 More than 80 percent of the US population now resides in urban areas. This number is projected to rise in the next few decades. Finding ways to maximize use of existing open space is imperative, and increasing access to food through sustainable management of edible landscaping is one important approach among many that are underway.…
Read More