LISTEN: Diane Wilson Discusses Fasting for Climate Justice on What Now

Diane Wilson continues her forty-three-day hunger strike for climate justice as she prepares to fly to Copenhagen for the international climate talks there.
In this interview with What Now's Ken Rose, Diane goes into her reasons for fasting, the indifference of a vast swath of the American public to climate change science, and how she believes one person can make a difference.
It's your intent to raise awareness about climate change, because people, you know, especially people in the United States, they look around, you know, people in the United States and, you know, you're not around the pollution and you look at the sky and you're like "I don't see anything going on," it's like "I don't believe that." You know they said probably about fifty, about maybe forty-seven percent of the U.S. population just does not believe in, that there's a climate problem, that it's all a hoax. You know? Because they just look around and it's like "I don't see nothing." So that, you know, and I'm from a small county that has—matter of fact, we had half of the toxins that were generated in the whole state of Texas in my little county, and I'll guarantee you, you get up into a suburb of Dallas, and they're like "Oh, there's no such thing as that. That's a little hoax." But I guarantee you, you get down where it is happening and you believe.
Listen Now
Related Articles: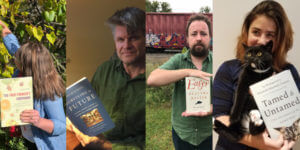 Are you new to the Chelsea Green community and aren't sure which book to read first? Or maybe you're a long-time fan and want to continue your binge-reading but need some fresh ideas. Regardless of how you got here, we can help! From the enlightening and thought-provoking to the quirky and fun, we, the Chelsea…
Read More