Fight Global Warming with a Pledge to be Meatless in May (Video)
You might find this surprising, but most of us here at Chelsea Green are not vegetarians. We do have a few veggies and vegans, but the majority of us (including me) eat meat. Of course, we opt for local, grass-fed, antibiotic-free, hormone-free, humanely-treated meat whenever we can, but it's not always an option—leaving us with only industrialized, packaged, shipped, corn-fed, medicated, abused, hormone'd, and labor-intensive options. (Hardly, gives you the warm fuzzies, eh?)
So, in the interest of raising awareness about the huge impact the industrialized meat production has on our health and environment, we've decided to put our veggies where our mouth is and cut industrialized meat out of our collective diet for the month of May. We've teamed up with the great folks over at YourDailyThread.com to ask you to take the pledge with us.
How much of an impact on the environment could industrialized meat production really have, you ask? Here are some truthbombs to explode knowledge into your ecobrain!
Truthbomb: Livestock production accounts for 18 percent of global greenhouse gas emissions—more than all the world's cars combined!1
Truthbomb: It takes 40 calories of energy to produce one calorie of industrialized beef.2
Truthbomb: Walking uses more fossil fuel than driving—if you get your calories from industrialized red meat.1
Surprising, no? When we think about industries that damage the environment, most of us immediately (and rightly) think of oil, coal, transportation, etc. Not many people could accurately name U.S. industrial meat production as one of global warming's largest contributors. But when one takes into account the chemicals, the grain, the fossil fuels, the medications, the shipping, the storage, the packaging, and the medical aftermath associated with eating a diet full of corn-fed, industrialized meats…it is not hard to see why it is so detrimental to our world.
Note: Local, grass-fed, un-drugged meat is not harmful to your or the environment. If you are lucky enough to have a local farmers that practices healthy meat production, we urge you to support their businesses. If you don't know of meat producer near you, check out LocalHarvest for a great alternative to industrialized meat.
Cutting industrialized meat out of your diet entirely saves 5,000 lbs of carbon emissions per year. By cutting industrialized meat out of your diet for just the month of May, you'll be cutting 420 lbs. of CO2 out of your carbon footprint.
So please join us and YourDailyThread in taking the Meatless for May pledge. You can do so by "attending" our Facebook Meatless in May event. Below, Tracy and Lauryn explain.
[bliptv=Af3Ma4axCA]
If you're tempted to take the pledge, but don't know what to eat or where to get it, check out the following books to help you get started. Remember, going veggie for a month is great—going LOCAL veggie for a month is outstanding!
Gaia's Kitchen
Vegetarian Recipes for Community and Family

by Julia Ponsonby

Perennial Vegetables
From Artichokes to Zuiki Taro, a Gardener's Guide to Over 100 Delicious, Easy-to-Grow Edibles

by Eric Toensmeier

Fresh Food from Small Spaces
The Square-Inch Gardener's Guide to Year-Round Growing, Fermenting, and Sprouting

by R. J. Ruppenthal

Sharing the Harvest
A Citizen's Guide to Community Supported Agriculture

by Elizabeth Henderson, Robyn Van En

Wild Fermentation
The Flavor, Nutrition, and Craft of Live-Culture Foods

by Sandor Katz
Sources:
Pimentel, D., & Pimental, M. (2003). Sustainability of meat-based and plant-based diets and the environment. American Journal of Clinical Nutrition, 78(suppl):660S-663S.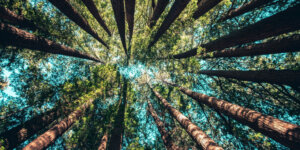 Gary Paul Nabhan is an internationally celebrated nature writer, food and farming activist, and proponent of conserving the links between biodiversity and cultural diversity. He holds the W.K. Kellogg Endowed Chair in Sustainable Food Systems at the University of Arizona Southwest Center, where he works with students, faculty, and non-profits to build a more just,…
Read More