Diane Wilson, Badass Green: Grist

Activist, shrimper, and author Diane Wilson (Holy Roller: Growing Up in the Church of Knock Down, Drag Out; or, How I Quit Loving a Blue-Eyed Jesus) just made the online environmental magazine Grist.org's top 13 list of Badass Greens. She's #4, in fact, above Arnold Schwarzenegger.
That's right. The unreasonable woman beat the Terminator.
Truth be told, Diane wilson could probably kick the ass of everyone else on there. With the exception of the Sicilian mafia (yeah, they made the list).
Think people who love the planet are all wimps and weenies? Think again. Here are thirteen who are giving green a bad reputation—in a good way. Read on to learn more about these Mother-lovers…

4. Diane Wilson. A fourth-generation shrimper who captained her own boat, Wilson turned activist when she found out her Texas county was the most polluted in the country. The self-dubbed "unreasonable woman" took on Gulf Coast manufacturers, wrote a book about it, and hasn't stopped fighting since.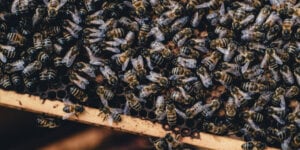 Spring is here and I don't know about you, but I can't wait to get started on all of the projects I mapped out during the cold winter months – including trying my hand at incorporating bees into my homesteading adventure! As a new-bee (get it?!), I need help to get started so I did…
Read More