Code Pink Awards Blackwater "Black Planet Award"

Diane Wilson—author of An Unreasonable Woman: A True Story of Shrimpers, Politicos, Polluters, and the Fight for Seadrift, Texas, Holy Roller: Growing Up in the Church of Knock Down, Drag Out; or, How I Quit Loving a Blue-Eyed Jesus and founding member of Code Pink—made a special delivery this month. She walked right up to Erik Prince, owner of the infamous corporation Blackwater responsible for countless Iraqi civilian deaths (and since outed, re-named "XE"), and handed him his prize for…Worst Company of the Year. That's right. Along with peace activist and retired Vietnam veteran Colonel Ann Wright, and Code Pink activists Ariel Vegosen and Janine Boneparth, Wilson hand-delivered the prize and Open Letter to Erik Prince's front door in McLean, Virginia. The letter read in part: "Your corporation is not controlled by the laws of this country…You represent a danger not only for peace endeavors and human rights but for democracy and mankind in general."
Formally called "The Black Planet Award"—and designed this year by a German grassroots foundation, Ethecon—the award targets the practices and persons behind XE, one of the largest corporations of its kind that is not only responsible for civilian deaths in Iraq but has come to represent oppression, exploitation, and the arbitrary, ruthless use of privateer soldiers.
Read the open letter to Blackwater (now "XE") here.
Read the entire Black Planet Award Press Release below:
Black Planet Award 2008 Hand-Delivered to Erik Prince and the Management of XE (formerly BLACKWATER)

The 2008 International "Black Planet Award" of the ethecon Foundation goes to the owners and responsible managers of the deadly corporation XE, (formerly Blackwater) for their endangerment and efforts to ruin our Blue Planet.

On Monday May 11, 2009, Erik Prince, multi-millionaire owner of XE, received the 2008 ethecon Black Planet Award in in McLean,Virginia. The international prize was hand-delivered by peace activist, retired Viet Nam veteran Colonel Ann Wright, CodePink activist Ariel Vegosen, CodePink activist Janine Boneparth, and CodePink activist, fisherwoman, and Viet Nam veteran Diane Wilson. The activists hand-delivered the prize and Open Letter to Erik Prince's front door in McLean, Virginia.

The Open Letter, presented to Erik Prince, Gary Jackson, Cofer Black, Chris Taylor, Robert Richter and Brian Bonfiglio of XE (formerly BLACKWATER), stated, "Your corporation is not controlled by the laws of this country … You represent a danger not only for peace endeavors and human rights but for democracy and mankind in general. As capital owners and responsible managers you are ruining our Blue Planet."

The award had previously been announced during a public event in Berlin by the foundation ethecon in March 2009. The denouncement laudatio was given by the international well known scientist-peace researcher Peter Strutynski of the University of Kassel, Germany. Erik Prince and associates did not attend the ceremony.

In lieu of Blackwater's owner and associates absence, another public awarding was made at the Stop Blackwater conference in April 27, 2009 in Stockton, Illinois. At its conclusion approximately 70 participants of the conference took part in a symbolic occupation of the military training grounds belonging to the XE Corporation in Northwest Stockton. Twenty of the demonstrators were arrested by the police during this demonstration of civil courage. Erik Prince and associates did not attend the Stockton, Illinois ceremony.

The Black Planet Award, designed this year by a German youth, targets the practices and persons behind XE. The company, one of the largest of its kind that specializes in the training and for-sale use of mercenary soldiers, is not only responsible for civilian deaths in Iraq but have come to represent oppression, exploitation, and the arbitrary, ruthless use of privateer soldiers.

Since 2006, ethecon has annually awarded two international prizes: the Blue Planet Award for persons who, in an extraordinary manner, have pledged their efforts to the safety and sustance of the earth and the Black Planet Award for persons who have shown by their practices that they represent a clear danger to our blue planet.

ethecon is a grassroots foundation genuinely dedicated to the sustenance of future generations. At the moment, the foundation has eleven chief sponsors.

For more information, original documents, and/or interview possibilities please contact:

Hubert Ostendorf
ethecon board of director
0049 (0)152 – 21 52 90 77
ethecon
Foundation Ethics & Economics
Schweidnitzer Str. 41
D-40231 Düsseldorf
Germany
0049 211 26 11 210
[email protected]
www.ethecon.org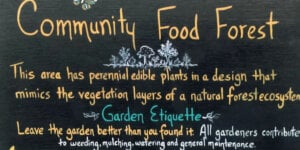 More than 80 percent of the US population now resides in urban areas. This number is projected to rise in the next few decades. Finding ways to maximize use of existing open space is imperative, and increasing access to food through sustainable management of edible landscaping is one important approach among many that are underway.…
Read More