Chelsea Green: Changing the World One Book at a Time

New Hampshire-based website Green Guide NH has a lot of nice things to say about our humble little Chelsea Green, our publishing practices, and our mission-oriented publishing philosophy. They've even created a slideshow of some of their favorite Chelsea Green books.
Here's an excerpt from the article:
Just over the border in Vermont is a company that really lives up to its name. Chelsea Green, based in White River Junction, has been publishing books on sustainable living for 25 years, and it's a company that practices what it preaches: It's taken steps to reduce natural resource and energy use by printing most of its books on chlorine-free recycled paper with soy-based inks.

The company was founded in 1984 by Margo and Ian Baldwin, who had moved to Vermont from New York City. According to Taylor Haynes, the company's marketing coordinator, the Baldwins wanted to "work together on something creative and also make a living, as good jobs were not so easy to find." The Baldwins named the company after the Vermont town they lived in, Chelsea, which was known as "Chelsea Green" because it had two greens instead of one, Haynes says.

One of the first books Chelsea Green published was "The Man Who Planted Trees," an ecological fable. Since then, the company has published more than 400 titles, including the New York Times bestsellers "The End of America," by Naomi Wolf, and "Obama's Challenge: America's Economic Crisis and the Power of a Transformative Presidency," by Robert Kuttner.

The company has evolved since its early days: What was once a startup now employs 21 people and is seen as the preeminent publisher of books on sustainable living. Its book topics run the gamut, including organic gardening and local agricultural movements, natural science and ecology, green building and renewable energy and political activism and social commentary.
Read the whole article here.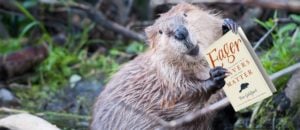 Eager: The Surprising, Secret Life of Beavers and Why They Matter has won the 2019 PEN America E.O. Wilson Prize for Literary Science Writing! A first book by journalist Ben Goldfarb, Eager has received several accolades since its release last year, including being named an Outside Magazine's "Best Book of 2018" and a "Notable Work of Nonfiction"…
Read More