After Illicit Drugs, Raw Milk May Be the Most Briskly Traded Illegal Commodity

Raw milk—unpasteurized, unhomogenized milk, "straight from the cow"—is illegal in 42 states. It's illegal to transport across state lines.
In the US, somewhere between 500,000 and a million people drink it. Raw milk advocates claim it has numerous curative properties, helping sick people suffering from allergies, asthma, and lactose intolerance and other digestive ailments. But wasn't there a good reason for pasteurization in the first place? Is raw milk really dangerous?
Check out the original article on MSN.com (h/t The Bovine) and judge for yourself.
It's early Saturday morning, and the Brooklyn street is almost empty. Except at one half-open store, where about 30 people are lined up in the narrow aisle clutching empty backpacks, shopping bags and suitcases. At the door, a man checks each entrant, asking "Are you here for the…pickup?"

Someone shouts "The van's coming!" and the place burst into action. People run into the street and come back hauling heavy cartons and cooler chests. Then the store empties as quickly as it filled, as everyone lugs their contraband purchase home.

And "lug" is the word. What's being distributed at this store — and in countless offices, backyards, homes, churches and parking lots across the country — is milk. Raw milk.

Apart from illegal drugs, raw milk — milk that's unpasteurized and unhomogenized, just as it comes out of the cow — may be the most briskly traded underground commodity in the United States. By a conservative estimate, some 500,000 people in the U.S. drink the stuff, says Sally Fallon, president of the Weston Price Foundation, which is dedicated to spreading the word about raw milk — and making it legal. Her guess is that the true total is closer to a million. Even the Food and Drug Administration, which is doing its best to keep raw milk out of the mouths of citizens, has acknowledged that about 3 percent of U.S. milk drinkers drink it raw.

It's not that those Brooklyn milk-buyers were doing anything illegal — drinking raw milk is legal in every state. So is buying it. What's not legal, except in eight states (Arizona, California, Connecticut, Maine, Pennsylvania, South Carolina, New Mexico and Washington), is selling it to the general public. The other 42 states have a variety of bans. In some, it can be sold only on the farm. In others, it can be sold only as pet food. Some outlaw its sale altogether. Federal law prohibits transporting it for sale — even from a state where it's legally sold — across state lines.

Skirting the law

That hasn't stopped ingenious raw milk drinkers from finding ways around the rules. Some buy the milk in states where it is legal and carry it across state lines themselves. (Milky Way Farm, in Starr, S.C., does a brisk business selling raw milk in parking lots right on the state line to buyers from neighboring states where it's illegal). Others form milk-buying clubs, which purchase the milk from a farm that's allowed to sell it and bring it back to a central distribution point. In states where selling raw milk isn't allowed at all, clever lawyers have taken advantage of old-time laws that let a farmer board and feed a neighbor's cow to set up cow-share programs. Members legally own the cattle the dairy farmer is raising and milking, and — as owners — get the milk.

These arrangements may fall within the letter of the law, but they clearly skirt its intent, so raw milk drinkers keep very, very quiet about their sources. A raw milk club in New York demands a reference from a current member before it will let you join. Joining one New Jersey club takes weeks because the club checks out each potential member (to make sure they're not a government agent in disguise) before letting them in.

The complicated legal arrangements make buying raw milk something of an ordeal. No running down to the corner for a quick quart: in most cases, buyers must order their raw milk online, usually by the gallon, several days before the pickup. (If you miss the deadline, you have to wait for the next one.) Deliveries are rarely made more than once a week and many are two or more weeks apart. Some buyers have to drive several hours to get to the pickup site, which is often in a hard-to find spot. "I've gotten lost so many times," says Valerie Scott Massimo, a New Jersey raw milk drinker. "The house is un-findable, and they have a wooden fence six feet tall."

There's good reason for these clubs to be cautious. While state authorities rarely go after raw milk buyers, distributors have gotten in trouble — late last year an Ohio raw milk co-op was raided at gunpoint by sheriffs' deputies. And state officials regularly try to shut down dairies that sell raw milk. The Farm-to-Consumer Legal Defense Fund, which defends farmers' right to sell raw milk, has a dozen cases on its docket right now. "People have the legal right to drink it," says Pete Kennedy, interim president. "The problem is finding ways to enable them to exercise their right."

If many state officials get their way, exercising that right will get harder, not easier. State officials try continually to tighten the laws governing the sale of raw milk. About a year and a half ago, agriculture authorities in Georgia, where it can only be sold as pet food, proposed requiring all raw milk to be dyed charcoal gray, to make it less attractive to drinkers. (Activists beat that one back). In California, state authorities have tightened the requirements for raw milk testing, says Mark McAfee, owner of Organic Pastures, the state's biggest raw milk producer, demanding that the milk be free not just of harmful bacteria, but of almost any bacteria at all.
Read the whole article here.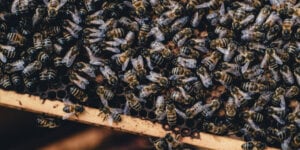 Spring is here and I don't know about you, but I can't wait to get started on all of the projects I mapped out during the cold winter months – including trying my hand at incorporating bees into my homesteading adventure! As a new-bee (get it?!), I need help to get started so I did…
Read More