Matador Life Interviews Master of Disaster Matthew Stein

Most people don't consider what would happen to them if a disaster struck and they were without electricity or water for five days. Or seven days. Or longer. But it certainly could happen, and if you're not prepared you could be forced to drink dirty, untreated water out of a ditch to stay alive.
So pack your grab-and-run emergency kit, and then come back and read the Matador Life interview with Matthew Stein, author of When Technology Fails: A Manual for Self-Reliance, Sustainability, and Surviving the Long Emergency.
Released in 2008 , When Technology Fails has quickly become the definitive guide to surviving a long-term disaster.

[…]

You probably learned much more than you wanted to know about the way the world was going.

Yes. The internal voice said that I had to focus on The Future Of the World chapter, and that these trends will all end in collapse of the natural systems on this planet, if we do not start doing things differently. If we continue with business as usual most of the people on the planet will die. But it can be shifted and changed.

The average American really doesn't think that an event could have an impact on their life beyond one week. How wrong are they?

They're totally wrong. History has shown huge events that have been civilization-busters, that have caused massive unrest. The thing is that America is soft because we haven't had a war on our land since The Civil War. We've gotten used to everything working very well in our country. When things collapse here, we've got a lot further to fall.

Hopefully it won't happen. Given the ecological trends, the chances are really high that we're going to see some huge disruption in central services for a month, six months, a year. I'm hoping that all of the right things happen in this new government and that we make the shift to sustainability.

I'm hopeful that we can avoid out-and-out collapse. But if we don't do the right things, in my mind, it's a guaranteed recipe for collapse.

What happens to us after day five of a major emergency, when systems start breaking down and when water starts becoming a huge commodity?

Most of us can last at least a month without food. Without water, in a hot climate, in three days people are going to start dying. If the water stops flowing then you're going to be drinking out of the local ditch, if that's all that is around.

If you're prepared, you've got your little grab and run kit with a backcountry filter that removes bacteria and viruses from the water. If you're really prepared you've also got a Steripen and fifteen seconds later it's been zapped free of viruses.
Photo by quiplash
Related Articles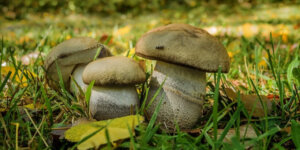 Did you know that our collective future could well pivot on people coming to understand that soil fungi matter? Or that there's such a thing as fungal consciousness?  Fungi have intricate lives, behaviors, and uses most people are unaware of. Mychorrizal fungi form symbiotic relationships with the root systems of other plants. The crucial, symbiotic role…
Read More