One Type of Milk May Cause Diabetes. The Other Doesn't. Which Do You Drink?

Keith Woodford has made some troubling discoveries about the milk we drink. He shares his conclusions in his book, Devil in the Milk: Illness, Health, and the Politics of A1 and A2 Milk.
The following article originally ran on NewZealandDoctor.com.
Keith Woodford is professor of farm management and agribusiness at Lincoln University. His book Devil in the Milk, published last year by Craig Potton Publishing, caused a stir with its reports of the detrimental effects of A1 milk. Professor Woodford tells his story.

A1 versus A2 milk has been a media "fringe" story for much of this decade. The publication of Devil in the Milk and reports from the New Zealand Food Safety Authority last year placed it in the spotlight. The key question is whether this is just a beat-up, or are there really major public health issues relating to type 1 diabetes, heart disease, symptoms of autism, and general milk intolerance? The way to answer this question is to go back to the science and look at the evidence.

The A2 story started in 1993 when Professor Bob Elliott from Auckland asked whether there was a difference between the milk the Masai people of Kenya drink and the milk drunk in Western countries.

Professor Elliott already knew casein was diabetogenic in rodents. He also knew Samoan children in New Zealand had 10 times the incidence of type 1 diabetes than Samoan children in Samoa.

And he also knew the Masai people of Kenya, who drink very large amounts of milk, do not get type 1 diabetes. So, he rang the Dairy Research Institute, asked to speak to a milk biochemist, and then asked whether there were any differences between the Kenyan milk and our own. The answer was that there is a difference in the beta-casein.

The non-disputed facts are a mutation, occurring some thousands of years ago and affecting the forebears of modern European cattle, has meant many European cattle produce a variant of beta-casein that has the amino acid histidine in position 67 instead of proline. As a consequence, the peptide beta-casomorphin7 (BCM7, which I also call the "milk devil") is released on digestion.

There is no dispute this is a strong opioid. It takes about 10 times as much naloxone to counteract a molecule of BCM7 than is needed to counteract morphine. Rats injected with BCM7 show bizarre behaviour patterns within one minute of administration, and there is clear evidence this peptide crosses the blood/brain barrier with ease. It then attaches to the mu opioid receptors. Fortunately, in most people this peptide cannot cross from the intestine to the circulatory system. But there are some people, who for any of a range of reasons have a permeable intestine, for whom this can occur.

Professor Elliott looked for evidence in two ways. One was to feed some non-obese diabetic (NOD) mice A1 beta-casein and feed the rest A2 beta-casein. None of the mice fed A2 became diabetic but 47 per cent of those fed A1 became diabetic. Administration of naloxone prevented another group of mice fed A1 from becoming diabetic.

Professor Elliott and colleagues also looked at the human epidemiology.

The most informative paper is Laugesen and Elliott's 2003 paper in the New Zealand Medical Journal, "Ischaemic heart disease, type 1 diabetes, and cow milk A1 beta-casein" (NZMJ 2003 24;116[1168]:U295). This paper reported extremely high correlations at the country level between A1 beta-casein intake and type 1 diabetes (see graph). Statistically, the chance of this being caused by fluke data associations is much less than one in 1000. Subsequently, it has been shown that type 1 diabetics have considerably higher antibodies to casein than non diabetics, and that it is specifically A1 beta-casein antibodies that set them apart. A highly plausible explanation for the autoimmune response is that the same sequence of four amino acids occurs at the end of the BCM7 molecule and in the GLUT2 insulin transporter molecule produced in the pancreatic islet cells.

And there is also strong evidence from Finland that high intake of ordinary milk is a major risk factor for diabetes.
Read the whole article here.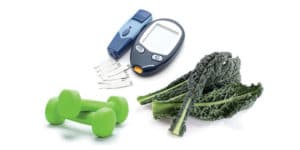 The evidence is clear: We are in the midst of a worldwide diabetes epidemic. In the United States alone, one in three Americans is either diabetic (29 million patients) or prediabetic (87 million patients), costing an annual $242 billion in medical treatments. An integrative approach based on the "eight essentials" of treatment and prevention will…
Read More