What I Learned at NewsTools2008

I recently attended the NewsTools2008 Conference at the Yahoo! HQ in Sunnyvale, California. The conference was a chance for old media types, new media types, programmers, and multimedia gurus to convene in a sunny locale and discuss the technological future of print publishing, journalism's role in our democracy, and, of course, how to make money. I was the only attendee with a book publishing background, but much of what we discussed about print journalism applied directly to our digital publishing aspirations at Chelsea Green.
The conference was organized by Kaliya Hamlin, author of Unconference and Unconference.net. Instead of organizing the event around the usual stream of presenters and tireless note-taking (or dozing off), NewsTools2008 had an 'open space' format. The main days of the conference were largely unplanned and unscheduled. Participants spent a half hour of the morning meeting creating sessions to facilitate throughout the rest of the day. This method ensured that every participant was given the opportunity to discuss what mattered most to him or her.
E-Books
I facilitated a discussion titled "E-Books: When? How?" My goal for this session was simple. I wanted to learn where people felt the e-book format and e-book readers were falling short. Chelsea Green will be making the push to digital book publishing (for reasons I will outline in a future post), and I wanted get some ideas about how to do it better than it is currently being done. I came to a few key conclusions.
The push to make an e-book reader's screen "just like paper" is a mis-step and stands as a barrier to the interactivity users have come to expect from digital content. People stare at screens all day long: on monitors, on cell phones, on iPods, etc. Reading off a screen will soon be a non-issue for users. Books (especially non-fiction) will only benefit from the inclusion of supplemental multimedia information into an e-book. Everyone will benefit from a writer being able to explain a process in text AND show the same process in video.
The inventory of digital books must proceed the device. Publishers, such as Chelsea Green, must recognize that the future of publishing is 100% digital, and therefore we must publish digitally for the web now, and for the device when it arrives later on. Writers create their manuscripts digitally–where it is searchable, portable, and infinitely reproducible. Why do we degrade it throughout the publishing process to a format that is none of those things? Not only is print publishing hugely wasteful and resource-intensive, it is economically risky. (I'll cover more benefits of the book industry's pending digital revolution in a future post.) Once we build up a substantial digital book inventory, electronics companies will be frothing at the mouth to provide us with the perfect device. The Kindle is not it. The Sony Reader is not it. The iPhone is closest, but isn't it either.
People who love books, love books–not the digital representation of books. The killer device will not sell to real book lovers unless it is able to reproduce the tangible interaction a book lover has with his library. iTunes's CoverFlow is Apple's answer for the music-lover. This means, that a person must be able to FLIP pages, VISUALLY BROWSE a library, VIEW cover art & decoration, and EXPERIENCE a physical representation of progress through the text. I would not know how to draw the picture of such a device, but it must achieve all these things for mass-adoption. Perhaps this is why e-books have been "the next best thing" for 10+ years.
Twitter
There was a lot of talk about Twitter. I had been familiar with Twitter before arriving at the conference, and I had an account, but I had never used it for much as I didn't see it's immediate value. I thought, "It's like email…but worse." I'm happy to admit I was wrong. It's not like email. It is a different animal, and produces a difference mode of communication. It is a social communication tool, and one that Chelsea Green will be making use of on this new web site. I'm excited to begin "twittering" some "tweets" to our "followers" while learning a new web lexicon. Sign up for Twitter, check out our profile, and follow our tweets!
Old Money Meets New Media
Of course, the major thing the old newspaper men wanted to know was, "How do we make money?" I found it humorous to watch the harried old journalists asking the hairy young technologists this question. It's obvious to me that the technologists have no idea. The only way they know how to make money is by capturing the eye of a big-time venture capitalist firm which dumps millions of dollars on them. They don't think about revenue, margins, or profits. Their only concern is "What's possible?" Not "What's profitable?" And, I would argue, that's as it should be.
Journalism That … Monetizes?
There were no major revelations concerning journalism's role in democracy. We all generally agreed that an open society depends on an open press, and that the breakneck speed of media consolidation these days was a direct threat to our democracy. But even after acknowledging that fact, no one seemed too concerned–believing, I guess, that the hairy troupe of new media bloggers would save our democracy. Every time the subject of our democracy came up, the journalism guys turned the discussion back to money–which indirectly is at the heart of the discussion anyway. If these small independent media outlets can't find the means to continue operation, they'll be forced to sell to a larger power, with larger corporate concerns.
The Solution for Local Papers
I think the best bet for these struggling local papers is to focus intensely again on local news. Forget the AP. They should build out their web sites to become an interactive two-way hub of communication for their local community. They will need to relinquish some of their editorial control to the community, and forget all of their ideas of top-down, or "God Model" publishing. The web will never be suited to one-way communication. Local stories, local members, local voices, local advertising.
The Future of Publishing
The conference reinvigorated my passion for publishing. I see a clear path to the long-awaited digital revolution of the book publishing industry. It is an industry that has been around for so long it has very deep, very strong roots in the foundations of existing processes. But Chelsea Green is lucky to be small enough, nimble enough, and progressive enough that we can lead the way for the rest of the industry…much like we did on the growing "no returns" revolution.
I posted a photo gallery of the conference and Yahoo! on Google's Picasa Web Albums. I probably should have used Flickr (Yahoo!-owned) to post photos of Yahoo!, but I couldn't resist the irony of posting them to Google. …Yes, I'm a geek.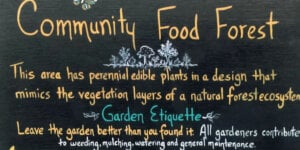 More than 80 percent of the US population now resides in urban areas. This number is projected to rise in the next few decades. Finding ways to maximize use of existing open space is imperative, and increasing access to food through sustainable management of edible landscaping is one important approach among many that are underway.…
Read More