Video: Four-Season Farming with Eliot Coleman
In this presentation, Eliot Coleman, four-season Maine farmer and author of Four-Season Harvest: Organic Vegetables From Your Garden All Year Long, explains how it is possible to keep productive vegetable gardens all year long—even in the middle of a northeast winter.
There is plenty of light, Coleman explains. It's the cold that needs to be overcome—which he's able to do with his custom unheated greenhouse design.
Here are the three parts of the presentation:
httpv://youtube.com/watch?v=7Zd232zFb1w
httpv://youtube.com/watch?v=64iREsdCpTE
httpv://youtube.com/watch?v=m_mfHJ2v1-U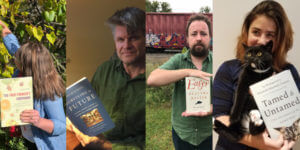 Are you new to the Chelsea Green community and aren't sure which book to read first? Or maybe you're a long-time fan and want to continue your binge-reading but need some fresh ideas. Regardless of how you got here, we can help! From the enlightening and thought-provoking to the quirky and fun, we, the Chelsea…
Read More