Exposed: Cosmetics That Won't Poison Your Body with Chemicals

When Terri Bly read Mark Schapiro's book (Exposed: The Toxic Chemistry of Everyday Products and What's at Stake for American Power) and found out the cosmetics industry is completely unregulated—that the products women absorb through their skin and lungs often contain chemicals that are banned in the European Union—she was appalled. She began to search for organic beauty products online, and found them—with limited success. There was no single umbrella web site where people could go and fill all their beauty wants in one shot.
So Bly got some family members to loan her some money, and was able to get "support from WomenVenture, an organization that helps women succeed in business," to start NatureofBeauty.com, an organic cosmetics supplier.
From TwinCities.com:
Slick new online store Natureof_beauty.com brings together a global roster of beauty companies selling natural and organic cosmetics, body and hair-care products. You'd never guess orders were being filled in the basement of a Mendota Heights home.

Often at midnight.

Web site founder Terri Bly's life was already full. She had a husband, two young daughters and a career she loved, working as a clinical psychologist for Personnel Decisions International. Then, she found her calling.

Bly read "Exposed: The Toxic Chemistry of Everyday Products and What's at Stake for American Power" by Mark Schapiro and "Not Just a Pretty Face: The Ugly Side of the Beauty Industry" by Stacy Malkan. As someone who had always loved makeup and creams, she felt compelled to do something.

"I always assumed someone was regulating chemicals in beauty products, but there's no regulation. I started to feel a little helpless," Bly says. "We focus all this energy on helping people deal with the aftermath of cultural complacency. I wanted to be more at the root level of this — empowering people to prevent problems rather than trying to get them to reverse bad behavior, which is so much harder."

Bly makes a concerted effort to eat organic. She recently switched to green household cleaners. But until last summer, she had never even sought out eco-friendly beauty products, let alone considered selling them. Once she started searching online, she was able to find brands she believed — but not all on one Web site and not with a platform that looked professional enough to compete with heavy hitters, such as Sephora.

"I don't want to position myself as a concerned mom," Bly says. "This is a business. My goal is to bring this stuff mainstream." Natureofbeauty.com makes a case for each brand featured. Santa Verde lotions are aloe-based. Logona lipsticks are made with vegetable oils.

"We've been programmed into thinking performance should come first and at the expense of everything else, including our health," Bly says. "There are a lot of great products that maybe don't stay on quite as long but aren't putting chemicals into our systems." The Web site launched in July after just a few months of planning.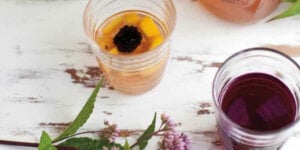 Looking to add another recipe to your fermenting repertoire? Try your hand at kvass. This nourishing beverage calls for just a few simple ingredients and only takes a couple of days to ferment. Use beets or get creative with various fruit combinations like Blueberry Lemon Mint or Ginger Apple Lime. The following recipes are from The Heal…
Read More