Mad Sheep and Crashing the Gate on DailyKos

Jill Richardson over at Daily Kos (also known as OrangeClouds115) had some nice things to say about Crashing the Gate: Netroots, Grassroots, and the Rise of People-Powered Politics and Mad Sheep: The True Story Behind the USDA's War on a Family Farm today:
… What's the one book every Kossack must read?
Is it fair to say Crashing the Gate? If we're talking about food-related books, I'd say The Omnivore's Dilemma by Michael Pollan. But I think Crashing the Gate is the most relevant to all of us, even those who don't give a rat's ass about food, and it's the best statement on what we're really doing here and what direction we need to move in.

You recently took the USDA to task in a column published on AlterNet. What grade would you give the USDA under President Bush?
The USDA hasn't gotten its own Grade A rating for many decades now. It's a wholly owned subsidiary of the National Cattleman's Beef Association. Yes, they get a big fat F under Bush (as do most other agencies… FEMA, I'm talking to you) but that doesn't mean they were better under Clinton. There's a fantastic book called Mad Sheep by a woman named Linda Faillace. Under the Clinton USDA, her family worked with the government to legally import European sheep. It was a brilliant business venture because European sheep breeds can produce 10 to 25 times more milk than American ones and Americans import a lot of sheep's milk cheese from overseas. Once her family had the sheep, the USDA got some heat about mad cow and they decided to take it out on the Faillace family, claiming their sheep had mad cow disease and needed to be destroyed. The government did over 400 negative tests for mad cow on the sheep until they were finally able to come up with a false positive or two using some year-old freezer-burned sheep brains and an invalid testing method in a later discredited lab. It was Bush's USDA that finally took the sheep and murdered them because the fight lasted beyond the Clinton administration, but Clinton's USDA was just as bad in that story….
And her personal blog has a great name: La Vida Locavore. Thanks for the shout-out, Jill!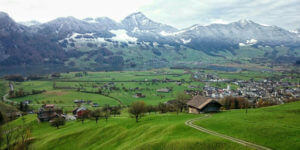 "The movement for freedom from poisons in our food and agriculture is the most important freedom movement in our times. . . . Read the story of Mals to get inspired. And act." —from the foreword by VANDANA SHIVA The recent uncovering of The Poison Papers—a collection of documents revealing years of apparent collusion between companies…
Read More