Money can't buy you love (and sometimes it can't even buy you food)

Dear friends,
The handwriting is on the wall that significant changes are in store for the world, but especially for Americans. I offer this, not to stir up fear, but to provide forewarning of what may be on the horizon so that we can prepare for it.
It is always worth examining our dependencies and vulnerabilities in order to create more options for ourselves and to enhance our ability to weather any storm. It is doubly so when the storm clouds begin to appear.
But let us remember that crisis is always accompanied by opportunity, and there is never any reason to abandon our sense of humor.
Here below are a few pertinent passages excerpted from:
Post-Soviet Lessons for a Post-American Century

(PART ONE OF THREE)

By
Dmitry Orlov

Civilizations do collapse – this is one of the best-known facts about them –
but as anyone who has read The Decline and Fall of the Roman Empire will
tell you, the process can take many centuries.

What tends to collapse rather suddenly is the economy. Economies, too, are known to collapse, and do so with far greater regularity than civilizations. An economy does not collapse into a black hole from which no light can escape. Instead, something else happens: society begins to spontaneously reconfigure itself, establish new relationships, and evolve new rules, in order to find a point of equilibrium at a lower rate of resource expenditure.

Note that the exercise carries a high human cost: without an economy, many people suddenly find themselves as helpless as newborn babes. Many of them die, sooner than they would otherwise: some would call this a "die-off." There is a part of the population that is most vulnerable: the young, the old, and the infirm; the foolish and the suicidal. There is also another part of the population that can survive indefinitely on insects and tree bark. Most people fall somewhere in between.

Economic collapse gives rise to new, smaller and poorer economies. That pattern has been repeated many times, so we can reason inductively about similarities and differences between a collapse that has already occurred and one that is about to occur….

…Soviet money ceased to have value, since there was so little that could be bought with it, and people still felt skittish around foreign currency.

Luckily, there was a limited supply of another sort of currency available to us. It was close to the end of Gorbachev's ill-fated anti-alcoholism campaign, during which vodka was rationed. There was a death in my family, for which we received a funeral's worth of vodka coupons, which we of course redeemed right away. What was left of the vodka was placed in the trunk of the trusty old Lada, and off we went. Each half-liter bottle of vodka was exchanged for ten liters of gasoline, giving vodka far greater effective energy density than rocket fuel.

There is a lesson here: when faced with a collapsing economy, one should stop thinking of wealth in terms of money. Access to actual physical resources and assets, as well as intangibles such as connections and relationships, quickly becomes much more valuable than mere cash….

…Everyone's savings were wiped out by hyperinflation. I arrived with a large stack of one-dollar bills. Everything was one dollar, or a thousand rubles, which was about five times the average monthly salary. I handed out lots of these silly thousand-ruble notes: "Here, I just want to make sure you have enough." People would recoil in shock: "That's a lot of money!" "No, it isn't. Be sure to spend it right away." However, all the lights were on, there was heat in many of the homes, and the trains ran on time….
I found Orlov's section on "Similarities between the Superpowers" to be very interesting and I think you will too. It argues that the Soviet and American empires "are, or were, the antipodes of the same industrial, technological civilization."
The entire article is well worth reading and may be found at Michael Ruppert's website.
best wishes,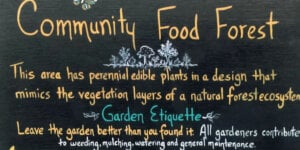 More than 80 percent of the US population now resides in urban areas. This number is projected to rise in the next few decades. Finding ways to maximize use of existing open space is imperative, and increasing access to food through sustainable management of edible landscaping is one important approach among many that are underway.…
Read More