Social Security Reform: Why Bush Can't Win This One

George W. Bush is convinced America's Social Security system is in trouble, and he's banking his reputation on being able to convince the rest of us, cross-crossing the Nation (at taxpayer expense) on a public relations campaign that would make your head spin.
But can the President win this battle?
No.
He doesn't stand a chance.
Is it because Social Security doesn't need fixing?
From my research on the issue, it is clear that the system could use a little help, an engine adjustment rather than a complete engine and body overhaul to address the legitimate concerns of President Bush and others.
So why is Bush's grand scheme doomed to failure?

The primary reason boils down to this: President Bush has betrayed America's trust often and deeply.
His say-one-thing-do-another approach to politics and government has caught up with him.
America's faith in the President has been so deeply battered that it is difficult, indeed impossible, for many Americans to support his Social Security Reform. Trust has turned to distrust. The Teflon coating that has successfully deflected legitimate concerns and criticisms from the President in the past may be beginning to peel off.
Not only do many Americans distrust Bush's dire warnings about Social Security, they distrust his motives. Americans who've been hoodwinked by the President in the past believe that he'll very likely sabotage the system, torpedo Social Security like so many other important Federal programs.
Consider his torpedoing of the federal budget.
With the assistance of a Republican-dominated Congress, the President enacted massive tax cuts to help relieve citizens like you and me of a purportedly onerous tax burden. This, in turn, they told us would give a shot of adrenaline to the lackluster economy, crippled by war and the crash of the stock market before it.
In reality, Bush's tax relief program benefited a select few, the extreme upper income bracket — mostly millionaires and billionaires.
In his 2003 State of the Union address, Bush announced that 92 million Americans would receive, on average, a $1000 benefit from his tax slashing. Although the President was correct, his announcement was a prime example of lying with statistics.
The way the math on tax cuts really worked was as follows: The top 1 percent of America's citizens received an average of $45,000 each. The middle 20 percent, received a paltry $265 a year or $22 per month while the lowest 60 percent got a whopping $95 annual break – or $7.90 per month – hardly enough to make a difference in anyone's life.
Those Americans who have looked at their monthly pay stubs realize that the generous tax rebates Bush offered were…sorry Mr. President…a sham.
And what happened to the huge boost tax relief was supposed to deliver to our economy?
Well, it fizzled.
The economy lumbers along, hobbling on weak crutches.
Not only have the tax relief plans not panned out, they've created record-breaking federal budget deficits. The result?
There is very little money left in the federal budget for anything other than the programs President Bush and his Conservative allies deem important. As it turns out, that's mostly more military spending, which now, according to reliable sources, amounts to a whopping 56% of the total annual expenditure of the federal government (when all of the hidden programs are uncovered).
We've been betrayed at least twice: we were promised tax cuts, but the money was FedXed to the rich. We were promised a boost to our economy and that failed to materialize, too. In the process, good government programs have fallen like flies.
President Bush, the nominally fiscally conservative, and his followers, the Slash and Spend Republicans, have told too many such lies to deserve our trust.
And we're not giving it to them.
Social Security Reform is one of the first victims of the erosion of public trust.
The kingpin of Bush's betrayal of trust, however, came earlier — in the wake of September 11. More precisely, when the President nearly unilaterally dragged our country into war under what now was clearly false pretenses.
The United States invaded a militarily weak and economically desperate country ruled by a cruel and despicable despot on the flimsiest of evidence: that they possessed weapons of mass destruction and posed a threat to U.S. Security.
We were also told that Saddam and Iraq had links to the perpetrators of September 11, Al-Queida.
Despite the fact that several months earlier the CIA had reported to the U.S. Congress that Iraq posed no danger to the U.S. and that Saddam had never used weapons of mass destruction against anyone who could retaliate, we invaded. Despite the fact that Al-Queida detested Saddam, we invaded.
Although we are glad to see Democracy gaining foothold in Iraq and are delighted to see Sadam's Reign of Terror come to an end, many Americans recognize that the war in Iraq was not about weapons of mass destruction and Al-Queida. It was really about ensuring the flow of oil to our economy.
Americans know that they were betrayed, deeply betrayed by the President and many of our so-called leaders.
But is it more than that.
Today, America's sons and daughters and husbands and wives and mothers and fathers are dying in a far-away land as a result of a colossal betrayal. You can't ask parents to send their children to war on false pretenses. It's too high a cost.
Social Security reform is the moral equivalent of Bush's search for weapons of mass destruction…and few people are buying it.
Frankly, we won't let the President lead us into another unnecessary and devastating battle. Even if the system needs help, we're inclined to refuse the President's assistance. We know there are bigger problems that need our immediate attention like oil shortages and global meltdown we politely call global warming.
It is silly to rebel against the President's sudden interest in Social Security Reform?
Yes, a little, but trust is a sacred political commodity.
When you've run out, you've run out.
Copyright 2005 by Dan Chiras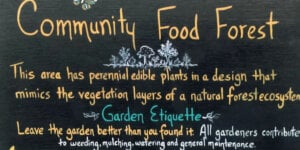 More than 80 percent of the US population now resides in urban areas. This number is projected to rise in the next few decades. Finding ways to maximize use of existing open space is imperative, and increasing access to food through sustainable management of edible landscaping is one important approach among many that are underway.…
Read More