Ripping Up Aspahlt and Planting Gardens

In a recent article in Raising the Hammer, Derrick Jensen explained why he doesn't see declining oil extraction as a problem. "I see it as a wonderful and necessary thing I wish would have happened a long time ago…"

This culture is killing the planet. It must be stopped. We evidently do not have the courage to stop it ourselves. The natural world will stop it for us. I think suburbs have no future. Nor do cities. They are inherently unsustainable.
They can be made less unsustainable than they are, but all cities require the importation of resources, and if you require the importation of resources your way of living can never be sustainable, because requiring the importation of resources means you've denuded the landscape of that particular resource.
There has never been a sustainable city anywhere on the planet. Sustainable villages, yes. Sustainable camps, yes. But not cities.
Civilization is going to crash, whether or not we help bring this about. If you don't agree with this, we probably have nothing to say to each other (how 'bout them Cubbies!).
We probably also agree that this crash will be messy. We agree further that since industrial civilization is systematically dismantling the ecological infrastructure of the planet, the sooner civilization comes down (whether or not we help it crash) the more life will remain afterwards to support both humans and nonhumans. Read the whole article.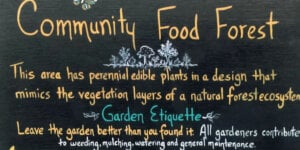 More than 80 percent of the US population now resides in urban areas. This number is projected to rise in the next few decades. Finding ways to maximize use of existing open space is imperative, and increasing access to food through sustainable management of edible landscaping is one important approach among many that are underway.…
Read More