September 5th, 2014 by admin
What do illnesses like autism, ADHD, asthma, celiac disease, allergies, and depression have in common? Simple: They can all be linked to the microorganisms present in your gut.
That's according to the pioneering British MD, Dr. Natasha Campbell-McBride who has found that these afflictions, as well as a long list of others, are linked—a concept she defines as GAPS (Gut and Psychology Syndrome or Gut and Physiology Syndrome).
Problems originate with what we ingest, according to Campbell-McBride. "In our modern world where people are regularly taking antibiotics and other pharmaceutical drugs, where food is laced with chemicals alien to the human physiology, an increasing number of people have damaged, abnormal gut flora dominated by pathogenic microbes," writes Campbell-McBride in the foreword of a new book on gut health, The Heal Your Gut Cookbook. "As a result, a person's gut is unable to nourish the body properly; instead it produces large amounts of toxins that absorb into the bloodstream, get spread around the body, and cause disease."
GAPS refers to disorders, including ADD/ADHD, autism, addictions, depression, and obsessive-compulsive disorder, stemming from or exacerbated by leaky gut and dysbiosis. GAPS also includes chronic gut-related physical conditions, like celiac disease, rheumatoid arthritis, diabetes type one, and Crohn's disease, as well as asthma, eczema, allergies, thyroid disorders, and more.
How to Fix a Leaky Gut
So, what can you do if your gut has sprung a leak, so to speak?
For many people it means changing their diets – sometimes radically so – in order to replenish necessary bacteria and microbes. It means preparing nutrient-dense foods and taking a more holistic approach to the food that you put into your body, and the bodies of your loved ones.
Over the next few weeks, we will be sharing content from several Chelsea Green books that celebrate restorative ways of eating using nutritious, raw, organic, and seasonal foods, and ways to make and prepare your own food at home.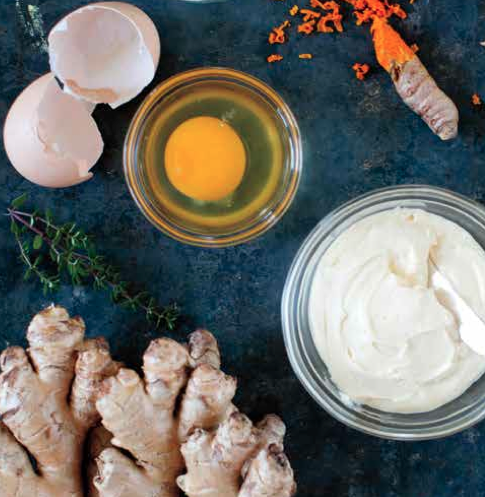 We start this week with The Heal Your Gut Cookbook: Nutrient-Dense Recipes for Intestinal Health Using the GAPS Diet, written by certified holistic health counselor Hilary Boynton and whole-foods advocate Mary G. Brackett.
The Heal Your Gut Cookbook follows the Weston A. Price philosophy that true health is achieved by reintroducing traditional nutrient-dense foods to our everyday meals.
What is the GAPS Diet?
The GAPS Diet is designed to restore the balance between beneficial and pathogenic intestinal bacteria and seal the gut through the elimination of grains, processed foods, and refined sugars and the carefully sequenced reintroduction of nutrient-dense foods, including bone broths, raw cultured dairy, certain fermented vegetables, organic pastured eggs, organ meats, and more.
Since much of the Standard American Diet is comprised of grains, processed foods and refined sugars, one can imagine how challenging this new way of eating may be at first. However, as author Alex Lewin points out, "Hilary Boynton's and Mary Brackett's new book makes GAPS accessible to a wide audience, both through its no-nonsense narrative and through its wealth of straightforward, delicious, and healthy recipes.
By reading this book, Lewin feels the intimidation factor towards the GAPS diet is significantly decreased. "It's as if she is saying, 'You are not alone. . . and here's what we're having for dinner.'"
For a taste of the more than 200 family-friendly, appealing recipes included in this cookbook, check out the below excerpt. You'll find a hearty beef broth (essential to the GAPS Intro Diet), main entrees, veggie dishes and even ice cream.
Read the foreword for The Heal Your Gut Cookbook and try your hand at what it means to really cook from scratch with one of the following recipes.
The Heal Your Gut Cookbook is on sale now for 35% off until Thursday September 11.